Publication Date: September 2016
Research and Editorial Team: Vincent Mabillard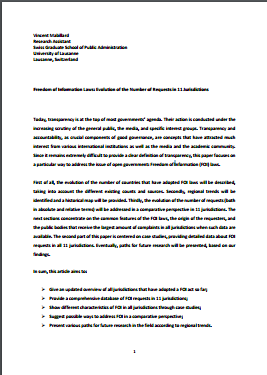 With a growing number of countries adopting freedom of information laws in the last few years, Freedom of Information is regarded as an increasingly powerful tool in the hands of journalists and the public to get access to information of public relevance.
Yet the effectiveness of legal instruments can be undermined by several factors. Freedom of Information (FOI) laws success depends on how they are used and implemented.
Vincent Mabillard has analysed how FOI laws are implemented in 11 countries, to single out different factors which affect their full implementation. To do so, the author has gathered all data about FOI requests filed in the countries under scrutiny, including information on who is the author of the request (whether a journalists or an individual citizen).
The author provides an overview on the adoption of FOI laws, discusses their different characteristics and suggests possible ways to address FOI in a comparative perspective.
The full paper goes into greater length in "case studies" about each of 11 subject jurisdictions: Germany, Ireland, Mexico, Scotland, Switzerland, the UK, Australia, New Zealand, Canada, India and the United States.
In spite of significant differences, regional trends can be noticed as well as the existence of patterns in the evolution of the number of requests sent to public bodies.
Tags:
Access to information
Media Law
Germany
Ireland
United Kingdom
Switzerland
The content of this article can be used according to the terms of Creative Commons: Attribution-NonCommercial 4.0 International (CC BY-NC 4.0) . To do so use the the wording "this article was originally published on the Resource Centre on Media Freedom in Europe" including a direct active link to the original article page.