Publication Date: September 2018
Research and Editorial Team: Gerret von Nordheim, Karin Boczek & Lars Koppers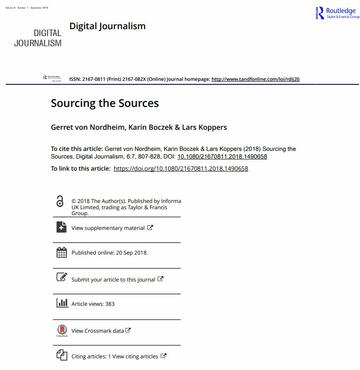 The purpose of the research is to analyse how newspaper journalists source social media from the moment these platforms first emerged until late 2016. The international comparison of three metropolitan, liberal national newspapers (The New York Times, The Guardian, and Süddeutsche Zeitung) of three western countries (US, UK, and Germany) shows how the relationship between journalism and social media vary depending on national circumstances. This analytical study explores three main areas of changes in media sourcing: technology use; audience relationships (elite or non-elite sources); innovation attributes (a comparison of a cluster consisting of Twitter and Facebook identified by the topics).
According to the findings of the research, The New York Times and The Guardian used fewer Facebook sources than Twitter sources over the entire period. The number of Twitter sources used as early as late 2012 exceeded the number of Facebook sources used in early 2014. In Süddeutsche ZeitungTwitter was sourced in 1–2% of all articles and this trend has not changed since 2013. The study confirms that, Facebook was sourced less until 2012/2013, followed by a rapid increase in all the three newspapers. However, Suddeutsche Zeitung's highest level of about 1% is still very low compared to the other newspapers.
Considering only the increase in sourcing over time, the study states that both platforms reach zero growth or decrease in every newspaper (except Süddeutsche Zeitung – Twitter), followed by a new phase of rapid growth. Yet, it seems that growth has been slowing down, except for social media references in The New York Times.
The research finds that at the beginning of 2010, The Guardian referenced even more nonelite than elite voices in its Facebook sources, whereas in 2016 all three newspapers cited elites on Twitter about twice as often as non-elites. However, a comparison of articles citing non-elite voices on Facebook and Twitter shows that Twitter is used as a non-elite source just as often as Facebook.
In line with the findings from the quantitative analysis, articles with Twitter and Facebook sources dominate the topic categories as "crime", "culture/arts", "media/tech", and "politics" with its strong representation in The Guardian and The New York Times. The difference between Twitter and Facebook use is more expressed on the topics "politics", "economy", and "sports". The study states that the strongest Facebook topics in both newspapers are "crime" and "media/tech". The research suggests that, despite its much smaller community, Twitter offers compatibility advantages for journalists compared to its competitor Facebook.
The study affirms that the diffusion of the innovation of social media has reached the stagnation phase. In this regard, the result is that the increase of social media sourcing reached a plateau in almost all cases at the beginning of the decade.
Tags:
Professional_journalism
Social_media
Germany
United_Kingdom