Publication Date: October 2017
Research and Editorial Team: Len Masterman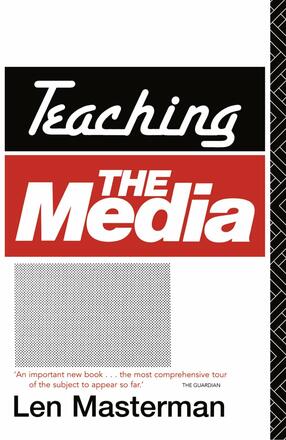 Len Masterman is a retired teacher who pioneered media education in schools, publishing in 1980 "Teaching the television" which sold 100,000 copies worldwide.
"Teaching the media" (1989) is his subsequent book where he highlights how fragmented media studies had been until the 1960s. In fact, media were considered "purveyors of mass culture" against which pupils had to be inoculated (inoculative approach).
Then, in early '60s, French new wave and British social realist movie directors hit the stage, persuading teachers to use films in their lessons. Film started to become respectable in education (discriminatory approach) "at precisely the point in history where cinemas were starting to close down" because of television.
In the early '70s, Masterman therefore turned to teaching TV studies, led by the idea that media education is an investigative - rather than evaluative - process. Pupils must be taught that media are not a mirror which reflects reality, but a symbolic system which represents reality (principle of non-transparency).
From this fundamental premise, crucial questions emerge on the impact of media ownership and control, ideology, context and audience. It is to these questions, Masterman argues, that media studies have to answer. How? Viable targets must be set, discussed with pupils and followed up. "The teacher's role is not to advocate a particular view but to promote reflection upon media texts, and develop the kind of questioning and analytical skills, which will help students to clarify their own views" and to make sense of any media text.
Tags:
Media literacy
Access to information
Media ownership
United Kingdom
The content of this article can be used according to the terms of Creative Commons: Attribution-NonCommercial 4.0 International (CC BY-NC 4.0) . To do so use the the wording "this article was originally published on the Resource Centre on Media Freedom in Europe" including a direct active link to the original article page.