Publication Date: January 2015
Research and Editorial Team: Richard Carver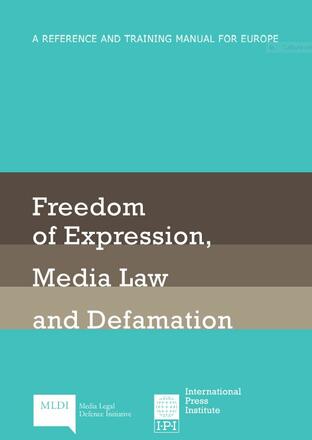 The Training Manual, redacted for a series of workshops on defamation law by MLDI and IPI is targeted to journalists and lawyers provides material on European defamation laws, offering definitions of the terms connected to the topic, concrete examples, laws and ECtHR jurisprudence.
It contains resources and background material about defamation. This is a generic legal term that refers to the unmerited undermining of a person's reputation. In some legal systems, the term defamation is broken down into libel and slander. The former refers to a defamatory statement that is published, whether in written form or through some other form such as broadcasting. Slander, by contrast, refers to defamation that is spoken privately and not preserved in any permanent form.
After an overview of the legal terms connected to defamation and their definitions, the Manual notes how the protection against defamation understood as "unlawful attacks" on a person's "honour and reputation" might be misleading: there is no damage to reputation if the reputation is undeserved. Preferable would be to intend the protection of "human dignity". Moreover, the remedies imposed are too often punitive and disproportionate, whether in criminal or civil cases, as they are aimed at punishing the defamer rather than redressing the wrong to the defamed.
The Manual also frames, through concrete examples referring to cases and rulings, the main issues related to defamation in the public debate, such as the criticism addressed to public officials, who often benefit of better protection from defamation; the protection that should be granted to political speech and debate; the notion of press as a public watchdog and religious defamation. Types of defamatory material are also listed in the Manual (facts vs. value judgements, the use of humour, reporting statements of others).
An analysis of concrete advices and instrument in defences to defamations suits in Courts is also provided.
The manual is available in several languages including English, Croatian, Greek, Italian, Macedonian, Portuguese, Russian, Spanish and Turkish.
Tags:
Defamation and Libel
EU Member States
The content of this article can be used according to the terms of Creative Commons: Attribution-NonCommercial 4.0 International (CC BY-NC 4.0) . To do so use the the wording "this article was originally published on the Resource Centre on Media Freedom in Europe" including a direct active link to the original article page.