Publication Date: June 2016
Research and Editorial Team: Anders Hofseth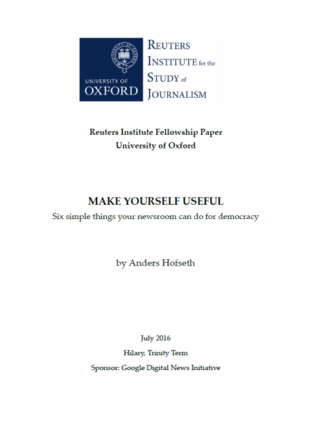 TV, radio, newspapers and online media have historically provided society with a common foundation, ensuring the flow of information, offering an arena for debate – and a handful of other functions vital to democracy.
Changes in media and media use are changing the game. In particular, the rise of the so-called attention economy brought on by online media and social media impacts the ways traditional media can perform their democratic functions, and parts of society are decoupling from the old news media.
The younger half of the population is abandoning traditional news faster, but there are changes across the board. Research interviews suggest that the new media environment in some ways actually is improving opportunities for a well-functioning democracy, but that traditional media have developed some dysfunctional and outdated practices, and should adapt to be able to benefit democracy.
This research focus is on practices that can be applied within most larger newsrooms without major changes, giving closer advice on topics such as: properly understanding social media, fact checking and overview, and common mistakes that should be avoided.
The most rational approach for traditional, public-spirited media wishing to uphold democracy, would therefore seem to be to embrace social media, and utilise them as instruments for performing tasks for democracy, but also to try to fix shortcomings in the new ecosystem. This will need to be done on terms largely dictated by the existing culture and practices in social media.
Tags:
Online news Online media
Social media
Journalism education
The content of this article can be used according to the terms of Creative Commons: Attribution-NonCommercial 4.0 International (CC BY-NC 4.0) . To do so use the the wording "this article was originally published on the Resource Centre on Media Freedom in Europe" including a direct active link to the original article page.