Publication Date: December 2017
Research and Editorial Team: Aidan White, Madis Vainomaa, Ivanka Georgieva, Edgar Federzoni dos Santos, William Huddleston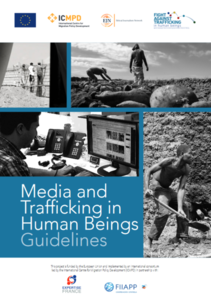 This digest has been produced in cooperation with the European Federation of Journalists (EFJ)
The guidelines provide useful material for the editors and journalists covering topics related to trafficking human beings to better understand the complexity of the issue ensuring factual and reliable reporting. The advice and suggestions provided to assist journalists in reporting trafficking, to consider the legal and human rights issues involved, the treatment of the victims, their privacy and welfare, and how to tell the story with humanity and style while helping audiences to understand better what actions may be taken.
The manual discusses the basic legal understanding of the issue, newsroom strategies for covering such issues, examples of good practice, as well as guidelines for photojournalism, and includes useful links and contacts.
Human trafficking, which is closely linked to slavery and forced labour, is a complex social problem that requires thoughtful, informed and, above all, compassionate journalism to provide context, give voice to the victims and assist in the search for solutions.
Tags:
Professional_journalism
Ethics_of_journalism
Human_Rights
Accountability