Publication Date: April 2017
Research and Editorial Team: Julie Posetti (chief researcher), Marcus O'Donnell, Carlos Affonso Pereira de Souza, Ying Chan, Doreen Weisenhaus, Federica Cherubini, Angelique Lu, Alice Matthews, Alexandra Waldhorn, Emma Goodman, Farah Wael, Jake Evans, Alexandra Sazonova-Prokouran, Jessica Sparks, Nick Toner, Olivia Wilkinson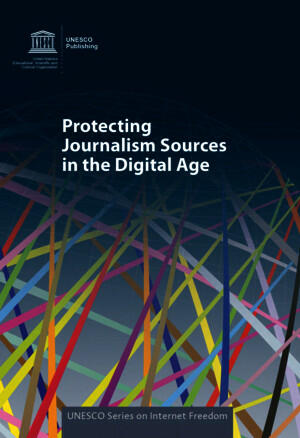 While digital environment offers new opportunities to investigate and report information in the public interest, it poses particular challenges regarding the privacy and safety of journalistic sources: in the digital era an inadequate confidentiality protection of those who collaborate with journalists can indeed undermine the sustainability of quality journalism, the public access to information, and consequently the democratic role of the media.
Published by the United Nations Educational, Scientific and Cultural Organization (UNESCO) as the ninth edition of a series on Internet Freedom that was begun in 2009, this research covers 121 UNESCO Member States shading light on the evolution of protective legal frameworks over the eight years 2007-2015. Confirming that traditional legal frameworks for source protection remain strong in some states and are progressing in others, this study shows that they are under significant risk of erosion, restriction and compromise from a combination of developments, caused not only by digital disruption but also due to measures that are introduced in the name of national security, mainly in order to fight against crime and terrorism.
Since the digital context is leading journalists to adapt their work methods in an effort to shield their sources from exposure, this research seeks to be a useful guidance for UNESCO, Member States and other stakeholders in providing recommendations for the future of journalistic source protection.
Tags:
Digital safety
Investigative journalism
Legal protection
Privacy
Surveillance
Whistleblowing
The content of this article can be used according to the terms of Creative Commons: Attribution-NonCommercial 4.0 International (CC BY-NC 4.0) . To do so use the the wording "this article was originally published on the Resource Centre on Media Freedom in Europe" including a direct active link to the original article page.