Publication Date: October 2017
Research and Editorial Team: Justin Schlosberg (Birkbeck, University of London), Glenda Cooper (City, University of London)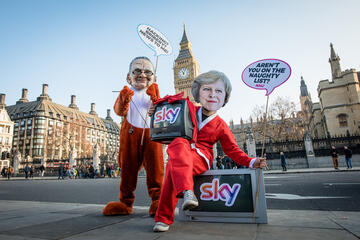 21st Century Fox, the media corporation owned by the Murdoch family , is bidding to acquire full control of Sky, Europe's biggest media company. The Murdoch family already owns a substantial share of the company, falling short of the absolute majority however.
Because of the size of the companies involved – which control some of the most influential media outlets in the UK, Europe, and the US – the bid has been attracting considerable attention by authorities, civil society, and public opinion. In particular, concern has been expressed with regard to the merger's impact on media pluralism in the UK.
The Media Reform Coalition and AVAAZ have submitted a report to the British Competition and Markets Authority , presenting the results of two studies carried out by the independent academics Justin Schlosberg (Birkbeck, University of London) and Glenda Cooper (City, University of London).
Their studies build on and expand previous analyses. In particular, they argue that in its assessment of the possible merger, the British regulator Ofcom has underestimated the reach and impact of Sky News and News Corp UK (another Murdoch-owned company) – thus underestimating the risk posed by the merger to media pluralism in the UK. The report also questions the evidence submitted by 21st Century Fox to counter widespread concerns on pluralism.
According to the scholars, in its assessment Ofcom underestimated the role of the wholesale provision of news in the country, which is less plural that previously thought. An analysis of commercial radio bulletins indicate that Sky plays a very significant role there, as many stations largely rely on Sky as a source. The plurality of wholesale news provision in Britain has already been decreasing in recent years, and the two companies Sky and News Corp UK combined constitute the second largest wholesale news provider across platforms.
Another dimension of risk posed by the Fox-Sky merger has to do with news aggregators and social media, which are not taken into account by the conventional measures of media reach and consumption. Evidence indicates that Sky can count on a disproportionate audience reach on social media, and on a large influence on news aggregators.
Finally, scholars have sought to identify agenda leaders in the British media market, i.e. the outlets covering stories first that are successively picked up by others. An analysis of news stories across 29 outlets indicates that News Corp UK, and especially its newspaper The Times, accounts for the highest share of agenda leading stories in the country.
The overall conclusion of the report calls for great caution towards the Fox-Sky merger bid: "the merged entity will give the Murdoch family unparalleled control of news providers both within and across all news platforms" at both wholesale and retail levels, and therefore the merger "would potentially reduce the range of viewpoints available to and consumed by members of the public".
Tags:
United_Kingdom
Media_ownership
Media_pluralism