Publication Date: June 2015
Research and Editorial Team: Lydia Gall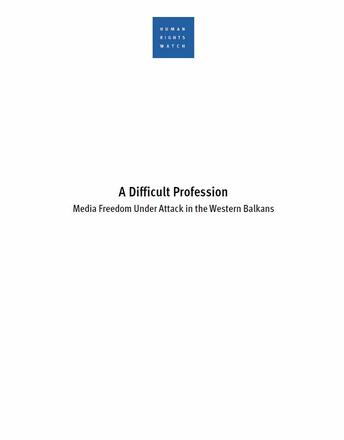 This 2015 Human Rights watch report documents the hostile environment in which journalists work in Bosnia and Herzegovina, Kosovo, Montenegro and Serbia. It does so on the basis of 86 in-depth interviews with media workers, therefore offering a unique array of personal witnessing on concrete violations. Journalists and editors in the region describe a difficult media space in which they are constantly confronted with threats, attacks, and other types of intimidation and interference with their work. Violence and intimidations are particularly directed against journalists who write stories implicating powerful business or political elites, or report on war crimes, high-level corruption, and radical religious groups.
In the past years a notable increase has been recorded in cyber-attacks against news websites in the aftermath of critical stories, particularly in Serbia and Republika Srpska (BiH). Authorities downplay the seriousness of online threats affecting journalists, hence provoking a climate of impunity which may result in self-censorship.
Political interference and financial pressure on media outlets and journalists is a serious problem in the Western Balkans. In some cases politicians pressured owners and editors to drop critical stories. More pervasive are efforts by public officials to muzzle critical media through financial pressures, either by cutting (or threatening to cut) state subsidies or by limiting state advertising. Journalists in all four Western Balkans countries described being sued on a regular basis impeding their ability to spend time reporting, and being forced in some cases to pay legal fees and court-ordered damages. Journalists in Bosnia Herzegovina and Serbia also described government officials conducting arbitrary financial inspections without prior warning and checks of administrative documents to harass or intimidate them for critical reporting. Independent journalists and media outlets reported being subjected to public smear campaigns by media close to the government, with articles depicting critical journalists as national traitors or through humiliating caricatures. In several cases articles about women journalists used vulgar imagery and sexually offensive language. Prime minister of Montenegro Milo Đukanović and prime minister of Serbia Aleksandar Vučić have publicly accused journalists of acting on behalf of foreign interests.
Bosnia and Herzegovina, Kosovo, Montenegro, and Serbia have clear obligations under international and regional human rights law to respect and safeguard freedom of expression, media freedom, and media pluralism. In addition, the Copenhagen criteria applicable to states negotiating European Union accession—to which all four countries aspire—include respect for press freedom.
Relevant authorities in the four Western Balkan countries included in this report should take immediate steps to ensure that journalists can do their job safely and without improper government or third party interference. As part of this they should conduct prompt and effective investigations into crimes against journalists and bring those responsible to justice. High ranking government officials should also refrain from interfering with the media and instead publicly condemn crimes against journalists.
Tags:
Western Balkans
Bosnia Herzegovina
Kosovo
Montenegro
Serbia
The content of this article can be used according to the terms of Creative Commons: Attribution-NonCommercial 4.0 International (CC BY-NC 4.0) . To do so use the the wording "this article was originally published on the Resource Centre on Media Freedom in Europe" including a direct active link to the original article page.