Publication Date: May 2015
Research and Editorial Team: Jennifer R. Henrichsen, Michelle Betz, Joanne M. Lisosky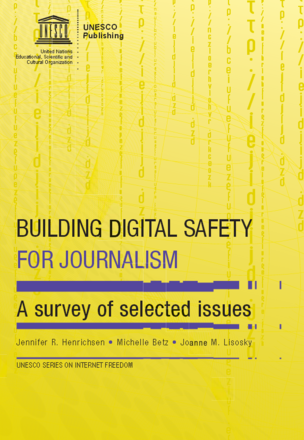 Safety for journalists, including digital safety, is a matter of public concern that is wide ranging. It is vital for those who practice journalism, for their families and for their sources. It is essential for the well being of media institutions, civil society, academia and the private sector more broadly. If we value the free flow of information for citizens, their governments and their international organisations, then the safety of journalists is central. In short, when it is safe to practice journalism, society benefits. However, with the rise of digital platforms, ensuring this safety for journalists has become even more complex. There are new vulnerabilities opened up across the full value chain of the digital interface – and the new digital dimensions are not separate from existing threats to journalists in the physical world. The current study helps us to comprehend and address the new challenges as a growing issue in securing the safety of journalists. In examining cases worldwide, this publication serves as a resource for a range of actors. In a nutshell, it surveys the evolving threats, and assesses preventive, protective and pre-emptive measures. It shows that digital security for journalism encompasses, but also goes beyond, the technical dimension. Recommendations are made for governments, journalism contributors and sources, news organizations, trainers, corporations and international organisations.
Tags:
Digital rights
Safety of journalists
Worldwide
Digital safety
The content of this article can be used according to the terms of Creative Commons: Attribution-NonCommercial 4.0 International (CC BY-NC 4.0) . To do so use the the wording "this article was originally published on the Resource Centre on Media Freedom in Europe" including a direct active link to the original article page.