Publication Date: June 2014
Research and Editorial Team: Stefan Antonov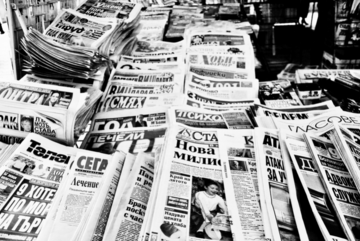 A wave of private, even foreign actors entered the media market in Bulgaria after the collapse of communism, arousing pluralism. However, "deep and destructive links" between politics and local elites were also being established and oligarchs managed to exploit "the weaknesses of the state" when the crisis erupted in 2009. Former journalist Stefan Antonov in the essay "The age of Oligarchs: How a group of political and economical magnates have taken control of Bulgaria" aims to explain why media freedom in Bulgaria deteriorated shortly after the EU membership.
Chapter 1 ("Theory and Reality") and Chapter 2 ("To change the model") describe the increasing rule of oligarchy after 2009, favored by tailored legislation. Chapter 3 ("The conquest of Bulgarian media") shows how media colonization was needed by the oligarchy to avoid investigations on the rooted corrupt governance model. The role of Deylan Peevski, national MP in Bulgaria and "dark executive" of the New Bulgarian Media Group together with his mother Irina Krasteva, is especially scrutinised. Founded in 2007, his group acquired in few years three major outlets: the daily Monitor, the tabloid Telegraph and the weekly Politika with loans from the also criticized Corporate Commercial Bank (CCB). Peevski's media are the strongest allies of whoever rules the country and the harshest critics of its opponents. When, in 2010, the German media group WAZ decided to leave the market, a campaign against the new owners Ognian Donev and Lubomir Pavlov was carried on until the company was sold and the outlets stopped being critical of the government.
As the advertisement revenues fell during the crisis, both print media and broadcasters found themselves much more dependent on state subsidies. According to what the author reports, leaked conversations among PM Boyko Borisov, former minister of agriculture Miroslav Naydenov and the chief prosecutor of Sofia, revealed a biased distribution of EU communication funds in favor of media which agreed to "unwritten conditions". Such a bitter and asphyxiating situation is mostly due to the lack of independent regulatory authorities: proper measures to effectively restrict the oligarchy's influence are recommended by the author in Chapter 4 ("Conclusions").
Tags:
Bulgaria
Media ownership
Media pluralism
State advertising
The content of this article can be used according to the terms of Creative Commons: Attribution-NonCommercial 4.0 International (CC BY-NC 4.0) . To do so use the the wording "this article was originally published on the Resource Centre on Media Freedom in Europe" including a direct active link to the original article page.