Publication Date: May 2012
Research and Editorial Team: Dilek Kurban, Ceren Sözeri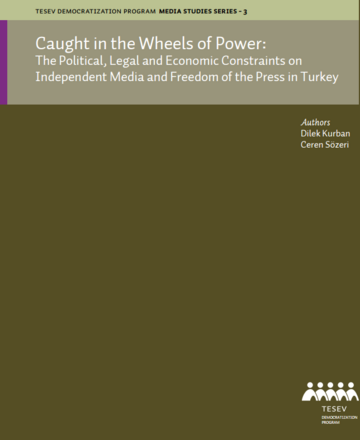 The report situates media freedom and independence in Turkey within a historical context and offers a critical analysis of the state-media relations, focusing on the role played by political actors, regulatory agencies, media owners, courts and journalists in the infringement of journalistic freedom in Turkey.
The assumption this analysis stems from is that a mere review of the regulatory framework is not enough to understand media independence and freedom of the press. Thus, the report aims to individuate which political and ideological factors lie behind anti-democratic and repressive laws, with an historical point of view.
The first part of this study explains the actors and processes of media policy making in Turkey; part two highlights the significant role of big corporations in shaping structural regulation and competition; in part three, the structure of the media market and the conducts of big players are examined; part four discusses the 'mentality' that shapes content regulation; in part five, the working conditions of journalists, journalistic standards and practices are reviewed; finally, part six looks at media literacy in Turkey and discusses the opportunities created by campaigns of advocacy groups.
This report is the third of a series of publications that TESEV (Turkish Economic and Social Studies Foundation) has released within its Media and Democracy research area.
Tags:
Turkey
Media Law
Media literacy
Media ownership
Media pluralism
Political pressure
The content of this article can be used according to the terms of Creative Commons: Attribution-NonCommercial 4.0 International (CC BY-NC 4.0) . To do so use the the wording "this article was originally published on the Resource Centre on Media Freedom in Europe" including a direct active link to the original article page.