Publication Date: November 2018
Research and Editorial Team: Valeria Costa-Kostritsky, Sean Gallagher, Jodie Ginsberg, Joy Hyvarinen and Paula Kennedy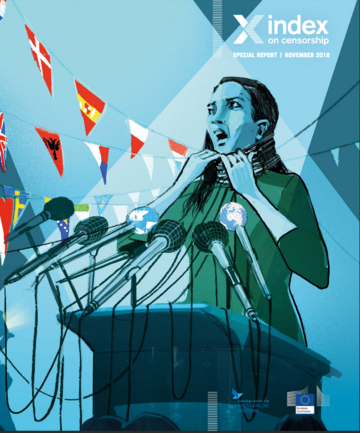 Demonising the media is "the willingness to smear journalists or the outlets they report for, rather than debate the facts, in order to warp the public's right to information". Aware that "such attitude is the true threat to media freedom in the EU, its candidate countries and potential candidate countries", the authors have detected five key issues from the incidents recorded and verified by Index on Censorship's Mapping Media Freedom (MMF) platform.
National Security and Counter-terrorism Legislation
Criminalisation of journalism that makes governments uncomfortable is spreading. MMF has logged and verified 272 cases from countries affiliated with the European Union. This includes everything from the alleged glorification of terrorism in Spain to the hundreds of journalists jailed in Turkey following the failed coup to the seizure of a BBC journalist's laptop in the United Kingdom. As security – rather than the protection of fundamental rights and freedoms – becomes the number-one priority of governments worldwide, terror laws can also be used to spy on journalists.
Political Interference
Two main trends are identified: direct interference and/or discredit, which both come in a variety of forms. The use of litigation to intimidate journalists is a serious concern, such as the 47 lawsuits being brought against investigative journalist Daphne Caruana Galizia at the time of her murder in Malta in 2017. Targeting the media financially is a well-trodden route for penalising critical outlets. Reporting incidents of censorship – including self-censorship – is vital to building an accurate picture of the state of media freedom in the region. The authors urge journalists' unions and media outlets to continue to report incidents widely, and confidentially if necessary.
Online Harassment
In the 117 cases of online harassment reviewed by the platform, the largest number of reports among EU countries came from Croatia with 16. It was followed by Italy (9), Spain (9), the UK (8) and France (5). In candidate and potential candidate countries, the highest number of incidents was logged as originating in Bosnia and Herzegovina with 16. It was followed by Serbia (9), the Former Yugoslav Republic of Macedonia (FYROM) (5), Kosovo (4) and Turkey (4).
Protests
Traditionally present at demonstrations to document and reflect, media workers – whether freelance or staff – are also among the first to be corralled, targeted and injured. Contexts vary, but journalists face risks originating with both protesters and police, and as a result of finding themselves stuck between protesters and police (or various groups of protesters). However, more than half the incidents (13 out of 25) reported in the first seven months of 2018 involve members of law enforcement, suggesting the need for improvements in police handling of media attending protests. This issue is further explored in "Targeting the messenger".
Public Television
Records show that editorial independence of public broadcasters is at risk as some were brought under closer government control. The authors urge the EU to act more decisively to ensure these services have independence.
In addition to trends, the report also identifies key categories to flag the most serious threats to individual media professionals. 27 deaths and 445 verified cases of physical assaults were recorded from 2014 to 2018. Italy was the EU member state with the most reports categorised as physical assaults. Italy's journalists were also intimidated most often, with 133 reports, also due to the monitoring work of Ossigeno per l'Informazione. There were 697 verified incidents categorised as having intimidation as part of the narrative in the EU member states, candidate and potential candidate countries. 74% of arrests and detentions (324 out of 437 reports) took place in Turkey. Hungary is the country where most incidents of blocked access were verified.

Eventually, selected countries are analysed. In Austria, for example, seven of the eight incidents that have been categorised as intimidation were logged by the platform after the December 2017 election. Threatening and intimidating messages are also common in the Netherlands. Journalists are mostly the target when they deal with such topics as organised crime, Islam, right-wing politician Geert Wilders and Turkish President Recip Tayyip Erdogan. 69 reports of censorship in Hungary were published between May 2014 and 31 July 2018. The most important impact on the state of media freedom is the concentration of media outlets in the hands of a few businessmen close to the government. Only a handful of independent media outlets continue working in Hungary, publishing almost exclusively on the internet. This has led to a situation where access to information critical of the government is difficult to obtain, especially in rural areas with low internet penetration and for people who are less tech-savvy. Citizen Security Law in Spain, the rise of populism in Sweden and Montenegro's atmosphere of impunity are additionally scrutinized.
Tags:
EU Member States
Turkey
Freedom of expression
Censorship
Safety of journalists
The content of this article can be used according to the terms of Creative Commons: Attribution-NonCommercial 4.0 International (CC BY-NC 4.0) . To do so use the the wording "this article was originally published on the Resource Centre on Media Freedom in Europe" including a direct active link to the original article page.