Publication Date: May 2018
Research and Editorial Team: Servet Yanatma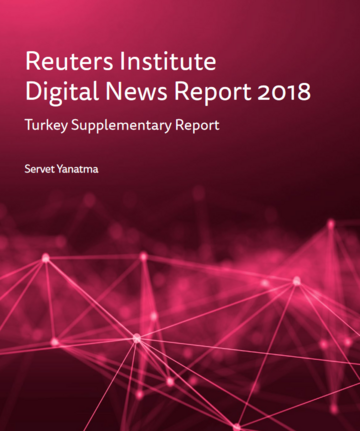 Related contents
Reuters Institute Digital News Report 2018
This digest has been produced in cooperation with the students of the University of Trento, within the seminars "Come diventare un analista politico: ricerca, informazione, e divulgazione sulle politiche europee" .
News sources
The report finds that the main sources of news in Turkey are television and online news. This trend has not changed since the 2017 report, although the gradual increase of online media as the main source has stalled this year as TV has kept its strong position in this category. Online news including social media is at the top of the list of sources of news used in the last week at 87%. When compared with the 76% peak in 2016, this year's figures show a decreasing trend in the percentage of the urban sample using social media for news (66%).
Online news is followed by TV (77%), printed media (46%), and radio (39%). On the other hand, TV comes first at 48% for people asked to choose their 'main source', followed by online news, including social media (39%), radio (7%) and printed media (6%).
The relation between sources of news and age is very pronounced this year, as younger people clearly preferred social and online media as their main news source compared with older audiences, who preferred TV news. This reflects a general trend across countries. Online news is the primary source only for the 18–24 age group. The 25-44 age group maintains similar preferences for online sources and TV, with the latter ahead of only 4 percentage points. This difference rises among older respondents.
The most watched TV channels are FOX TV (58%), CNN Turk (47%), and NTV (43%). The first three online sources are CNN Turk (37%), Hurriyet (36%), and Mynet (32%). The report highlights the fact that "All in all, there are only three Turkish media outlets in the list that can openly criticise the ruling party. They are FOX TV, Cumhuriyet, and Sözcü. The others are largely seen as pro-government".
News Consumption: Devices and Gateways
Smartphones and computers (both laptop and desktop) are the most commonly used devices to access news on a weekly basis (72% and 67%, respectively). Age is an important factor on the devices used: according to a general pattern confirmed by Turkey, younger people tend to use smartphones more, while older people still prefer to use laptop/desktop computers. Research also shows that "search" is the most used gateway in Turkey with a striking 33% of the interviewed using it (a figure that is 9% higher than in other countries). This is mainly followed by direct contact (29%) and social media (20%). Again, age is an important factor, showing younger people mainly using social media and older people still tending to use direct contact, while search is used by both age groups in the same way.
Trust and polarisation in news media
Decline in trust in news media is a global trend, but lately Turkey is consistently one of the top countries with one third of Turks not trusting the news they use, a number even more striking if compared with other countries where mistrust of familiar news affects only one in five citizens. While 38% of Turkish respondents trust news overall, this figure increases slightly to 43% when they are asked specifically about trust in the news they use. Polarisation is also a major contributor in this issue since mistrust levels are different among people with different political views and ages: trust is higher among the older right wingers (51%) than the left (29%) Viceversa, young left-leaning people tend to be more skeptical and trust media outlets less.
Misinformation, 'Fake News', and News Literacy
The 2018 survey measured the self-reported exposure to misinformation and fake news in Turkey. Most of the respondents, on both sides of the political spectrum, believed they were exposed to completely made up news reports (49%): Turkey's results, far above the average (26%), put the country at the top of the ranking. Concerns about misinformation have also ignited research about news literacy. The results of the survey on this topic, based on three questions about the realization, the selection, and the financing of news, showed that 32% of respondents had very low levels of news literacy and 45% had a low level.
Social Media Messaging and Participation
Turkey is in line with the global decrease in the use of Facebook for news. According to the international report, more people have been using messaging apps such as WhatsApp for any purpose (44%), while average usage for news has more than doubled to 16% in four years. In Turkey, these numbers are even higher. A large number of respondents prefers sharing news or talk privately via instant messenger (32% versus 17% for the international average) instead of doing so publicly. The report assumes that this is due to fears about government surveillance, as Turkey is at the top among all countries in terms of concern that openly expressing their political views online could get one in trouble with the authorities. However - and perhaps paradoxically - while Turkey is at the top of the countries covered in the report for self-expressed concern about the safety of posting political messages, sharing or commenting on a news story via social network (e.g. Facebook, Twitter, LinkedIn) is also very high in Turkey, with 38% for sharing and 35% for commenting compared with 26% and 20% respectively in all countries. As for commenting on a news story via social networks, Turkey leads ahead of all 37 countries, with no significant difference in commenting by political leaning.
Tags:
Turkey
Media freedom
Online news Online media
Media literacy
Fake news and disinformation
Trust in media
The content of this article can be used according to the terms of Creative Commons: Attribution-NonCommercial 4.0 International (CC BY-NC 4.0) . To do so use the the wording "this article was originally published on the Resource Centre on Media Freedom in Europe" including a direct active link to the original article page.