Publication Date: November 2015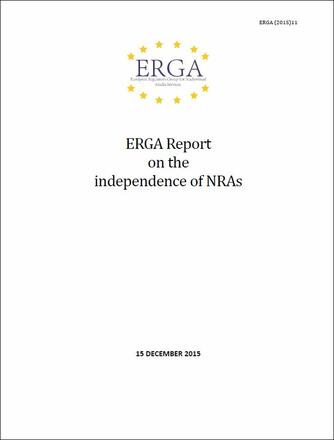 The Report focuses on different national institutional set ups regulating the work of National Regulatory Authorities (NRAs) in the field of Audiovisual Media Services (AVMS), with the aim to assess the elements impacting on the effectiveness of NRAs' independence. The study is based on a questionnaire answered by 33 NRAs across Europe.
The report summarizes the findings deriving from the analysis of the answers to the mentioned questionnaire and the position of the most relevant literature on the topic of "independence of regulators", with the aim of providing the EU Commission with some ideas to foster the independence of regulators during the revision of the AVMS Directive.
The structure of the report takes into account the provisions enshrinedin the European framework which are relevant for the NRAs' independence. It then considers the impact of national institutional frameworks on the functioning of NRA. Further on, the appointment procedures are considered, as well as the endowment of human resources, financial autonomy, transparency and accountability as elements impacting on NRAs functioning and effective independence. Finally, the decision making process and enforcement capacity are considered.
Recommendations expressed in the report stress:
- the need to guarantee the independence of these NRAs
- the importance for NRAs to have access to adequate and qualified human resources as well as sufficient financial resources
- the key role of transparency as a guiding principle in NRAs activities, as well as the need to guarantee NRAs the power to take autonomous, independent decisions and to be entrusted with adequate enforcement powers
The concept of independence of regulators is pursued in the audiovisual sector by article 30 of the 2010/13/EU Directive on Audiovisual Media Services (AVMSD). The report recognizes existing differences in constitutional systems in the EU, and the variety of institutional and organizational set-ups among the audiovisual regulators of the Member States, while at the same time recalling that the independence of regulatory bodies in the communications sectors is key to their effectiveness.
Tags:
EU Member States
The content of this article can be used according to the terms of Creative Commons: Attribution-NonCommercial 4.0 International (CC BY-NC 4.0) . To do so use the the wording "this article was originally published on the Resource Centre on Media Freedom in Europe" including a direct active link to the original article page.