Publication Date: May 2016
Research and Editorial Team: Erol Önderoğlu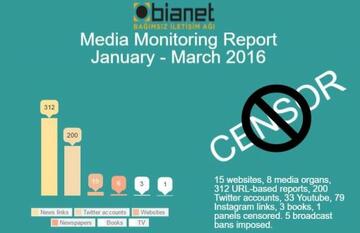 Bianet periodic report highlights that, in comparison to the same 3-months period of 2015, in 2016 the number of assaulted journalists has increased from 10 to 17, the custodies from 7 to 49, the journalists in prison from 23 to 28, the broadcast bans from 2 to 5 and unemployed journalists from 8 to 185.
In the first quarter of 2016, lawsuits were increasingly brought against journalists on grounds of both the penal code and Anti-Terror Law.
On charges of defaming through of media the former Prime Minister and the President, action has been taken against 86 persons 53 of whom were journalists, including imprisonment, prosecution, criminal complaint and damages.
In the same period, 40 journalists have been tried in accordance with the Anti-Terror Law (TMK) demanding 642 years in prison.
Overall, 49 journalists have been taken into custody in the period considered, compared to 120 media representatives into custody during the entire year of 2015.
Out of the 28 journalists imprisoned in these three months, 18 are from the Kurdish media.
Tags:
Turkey
Censorship
Defamation and Libel
The content of this article can be used according to the terms of Creative Commons: Attribution-NonCommercial 4.0 International (CC BY-NC 4.0) . To do so use the the wording "this article was originally published on the Resource Centre on Media Freedom in Europe" including a direct active link to the original article page.