Publication Date: October 2019
Research and Editorial Team: By European Federation of Journalists, Syndicate of Journalists of Czech Republic, European Broadcasting Union, Nordic Association of News Publishers, European Centre for Press and Media Freedom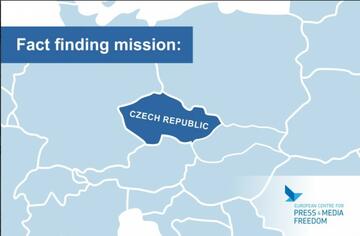 On October 7th and 8th 2019, a fact-finding delegation met "with 14 key informants among journalists, editors, directors, teachers, politicians and founders from various part of the Czech media landscape, both public service media and private media".
According to the Press Freedom Index of Reporters without Borders, Czech Republic has dropped 27 places in 5 years. One fact: the Prime Minister owned 30% of the private media.
Participants
Mogens Blicher Bjerregård, President of the European Federation of Journalists
Jean Philip De Tender, Director Media at European Broadcasting Union
Jørn Mikkelsen, editor at Jyllands-Posten, Nordic Association of News Publishers
Lucie Sýkorová, Chair of the supervisory board of European Centre for Press and Media Freedom
Adam Černý, President of the Syndicate of Journalists of the Czech Republic
Findings and recommendations
The mission identified six main fields "where changes and improvements would have a positive impact on press freedom and independent media", such as:
the Prime Minister's links to his former properties, regarded as "totally unacceptable for a democracy" and "an extreme conflict of interest";
it is too easy for the parliament and the government to put pressure on public service media;
self-regulation among journalists is not working well and there is the need "to agree on common ethical guidelines" valid for all platforms;
local media are not really independent or impartial, and are in a very difficult situation; so difficult that "local journalists were afraid to meet the mission as they believed that the owners could consider such meeting as disloyalty to an extent that it could lead to dismissals";
there is a lack of quality journalism and this has to be addressed both by journalists and by publishers;
there is the need to develop a new business model for media, also asking the European Commission to grant funds to support independent journalistic start-ups, in particular at local level
Tags:
Czech Republic
Freedom of expression
Media freedom
Media ownership
Media pluralism
Media capture
The content of this article can be used according to the terms of Creative Commons: Attribution-NonCommercial 4.0 International (CC BY-NC 4.0) . To do so use the the wording "this article was originally published on the Resource Centre on Media Freedom in Europe" including a direct active link to the original article page.