Publication Date: November 2017
Research and Editorial Team: Lucy Kueng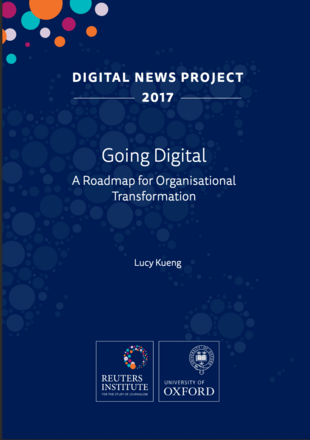 Through over 60 in-depth interviews to representatives of media companies including The Washington Post, Axel Springer, Schibsted, Vox, the Financial Times, The New York Times, The Economist, Le Monde, El Pais, Dagens Nyheter, and The Guardian, the report identifies and explores the components of best practice in organisational transformation.
In the first chapter, the key shifts in the strategic environment are outlined by author Lucy Kueng. The report then moves on to the topic of strategy, which should drive organisational transformation. Two key aspects are reviewed here: the means by which revenues are generated (business model), and how to deal with 'shiny new things', that is the ceaseless flow of technology innovations that can, if not handled well, disrupt long-term strategy.
The report then considers aspects of the internal organisation. It first looks at the key areas where tech and commerce are merging with journalism, that is product, data, and social media, and then explores changes in digital storytelling. A discussion of the growing centrality of people processes and HR follows, and the report closes by looking at transformation in organisational culture and the role of the leader in driving transformation.
Tags:
Digitalisation
Business model
Online news Online media
Professional journalism
The content of this article can be used according to the terms of Creative Commons: Attribution-NonCommercial 4.0 International (CC BY-NC 4.0) . To do so use the the wording "this article was originally published on the Resource Centre on Media Freedom in Europe" including a direct active link to the original article page.