Publication Date: April 2019
Research and Editorial Team: Stephanie Koch (ECPMF), Valentina Vivona (OBCT), Alberto Spampinato, Giuseppe F. Mennella, Raffaella Della Morte and Ilaria Fevola (Ossigeno per l'informazione)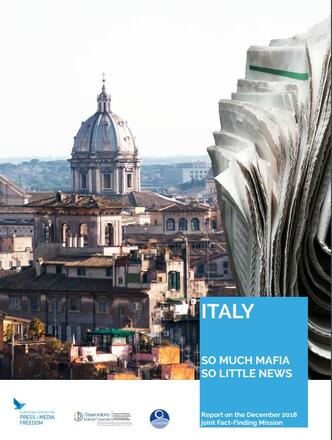 In December 2018, representatives of ECPMF, Ossigeno per l'Informazione, and OBCT took part in a mission aimed at mapping the situation of journalists under some form of protection by the State.
The situation is described as "a daily battle" and data confirm this analysis: according to the data collected by Ossigeno, "between 2016 and 2018, more than 3,721 Italian journalists, bloggers, video operators and photojournalists - each one listed with name and surname - were targets of threats, intimidation, assault, damage, targeted theft, serious abuse of rights (especially vexatious criminal complaints and lawsuits for unsubstantiated libel) and obstructed access to information".
Journalists under threat are protected in Italy by a system that is considered "among the best in the world, according to the interviewees". The report gives a detailed description of how it works and lists the 4 levels of risk according to which a different level of protection is granted (Level 1 is that of maximum alert and it covered 15 people, not only journalists, involving 171 officers). At the moment of the mission, there were "21 Italian journalists considered to be at high risk and protected with armed police escorts from the law enforcement agencies. They represent 3.5% of the individuals to whom the State provides this form of protection as it considers them at high risk of the Mafia or other groups attacking them".
The report contains the full text of the interviews with 15 journalists currently under police protection and summarises their fears, hopes, and suggestions.
Tags:
SLAPP
Freedom of expression
Media freedom
Safety of journalists
Italy
The content of this article can be used according to the terms of Creative Commons: Attribution-NonCommercial 4.0 International (CC BY-NC 4.0) . To do so use the the wording "this article was originally published on the Resource Centre on Media Freedom in Europe" including a direct active link to the original article page.