Publication Date: January 2017
Research and Editorial Team: Nic Newman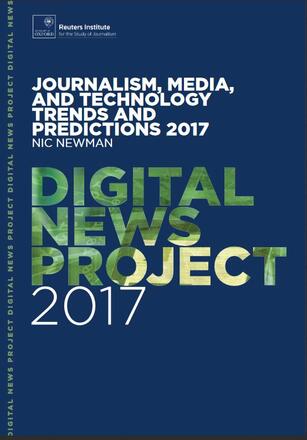 The report is based on a review of the developments of the media and technology used in 2016 and a survey with inputs from 143 digital leaders from 24 countries which give their predictions for the upcoming challenges.
Main topics of the year 2017 are predicted to be the discussion around fake news and the responsibilities of platforms like Facebook as "publishers". In addition, the integration of new technology and the use of new channels by media publishers in order to compete with social media platforms will be a major topic.
The report takes into account the fears about "how changing technology is affecting the quality of information and the state of our democracy." It predicts that, facing the spread of fake news, more "fact-checking" pages will be established with the help of augmented journalism. The uncertainty of which news are true or not could strengthen the position of "trusted brands" as 70% of the respondents of the survey foresee. Another important point will be the difficult relationship of publishers with third parties platforms through which they spread their news.
A key question for 2017 is how the already tense relationship between publishers and platforms will develop. In Reuters survey almost half (46%) said they were more worried about the role and influence of platforms compared with last year. Fewer than one in ten (9%) were less worried. As one UK digital leader put it: "The news industry is starting to wise up to the fact that it has been thoughtlessly making Facebook
In summary, the media platforms are searching for new ways to reach audience in order to finance their work and to cope with the challenges the media convergence carries.
Tags:
Audiovisual_Media_Services
Advertising
Ad-blocking
Economic_pressure
Content_distribution
Online_news_Online_media
Social_media
Romania
Trust_in_media
The content of this article can be used according to the terms of Creative Commons: Attribution-NonCommercial 4.0 International (CC BY-NC 4.0) . To do so use the the wording "this article was originally published on the Resource Centre on Media Freedom in Europe" including a direct active link to the original article page.