Publication Date: December 2021
Research and Editorial Team: EFJ, IPI, ECPMF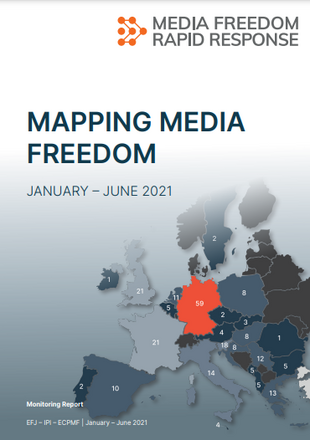 The fourth Monitoring Report is again shaped by the impact of Covid-19 on media freedom.
In the first six months of 2021, most violations of press and media freedom took place at demonstrations. In particular, the press has become a target of anti-vaccination and anti-lockdown protests. Another trend that has been recorded in the reporting period has been the rise of online threats in most countries. Online harassment ranges from threatening messages to death threats and psychological abuse. In some cases, this is done by political representatives and prominent figures, which can incite physical and verbal attacks against journalists and media workers.
The most commonly recorded violations have been intimidation/threats (26.8% of the total) and physical assaults not resulting in injury (12.1%). Insults to media workers are the third most common threat (10.7%), followed by discrediting, physical assault resulting in injury, and attacks to equipment.
Private individuals remain the main source or perpetrators of attacks, followed by police or state security forces and government/public officials.
The report includes a visual analysis of the data compiled for Mapping Media Freedom, which collects and visualises press freedom violations in the European Union and candidate countries. The quantitative analysis is followed by country reports, where some of the most relevant cases are highlighted. At the end of the report, a cross-regional thematic comparative analysis focuses on the rise of online threats, while a second comparative analysis focuses on physical attacks against journalists.
Tags:
Media freedom
Safety of journalists
The content of this article can be used according to the terms of Creative Commons: Attribution-NonCommercial 4.0 International (CC BY-NC 4.0) . To do so use the the wording "this article was originally published on the Resource Centre on Media Freedom in Europe" including a direct active link to the original article page.