Publication Date: May 2013
Research and Editorial Team: Miroslav Kollar, Tomáš Czwitkowics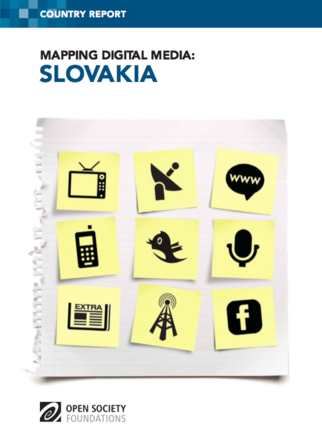 Slovakia has been experiencing a rapid process of digitization that led to deep changes in the provision of news and information services. Some of these developments have brought benefits for both consumers and citizens while others have come at a substantial cost. If much of the growth of internet news has come at the expense of radio and traditional newspapers – which are used as a main source of news by only around 10% of people –, television still remains the dominant source of information.
These and other considerations stem from the country report produced by the Open Society Foundation within the framework of the "Mapping Digital Media " project. The "Mapping Digital Media Reports" are produced in 60 different countries by local researchers and partner organisations. This project examines how digital changes affect the core democratic services that any media system should provide.
According to this report, Slovakia still presents a significant digital divide along lines of demographics, education, and income; but the reach of online news is increasing year on year.
The digital switch-over of television was completed in 2012, but it impacted negatively on the public broadcasting, unable to meet the competitive challenge posed by rival commercial broadcasters on both terrestrial and pay-TV platforms.
A more successful story has been the roll-out of broadband, which in 2011 accounted for 99% of all internet households. Digital media have also enhanced political diversity and reduced entry barriers to mainstream politics (Freedom and Solidarity, the so called "internet party", came third in the 2010 general elections, building grassroots support almost exclusively through digital channels), while on the other hand social media have re-energized civil society activism.
Although investigative journalism remains largely the preserve of newspapers, opportunities for source anonymity and data storage have encouraged whistleblowing and new platforms inspired by the WikiLeaks model. In conclusion, negative and positive sides merge: with digital switch-over out of the way, there remains an urgent need for reform in a number of areas.
Tags:
Slovakia
Access to information
Freedom of expression
Investigative journalism
Media freedom
Media literacy
Media pluralism
Social media
Trust in media
Whistleblowing
The content of this article can be used according to the terms of Creative Commons: Attribution-NonCommercial 4.0 International (CC BY-NC 4.0) . To do so use the the wording "this article was originally published on the Resource Centre on Media Freedom in Europe" including a direct active link to the original article page.