Publication Date: July 2016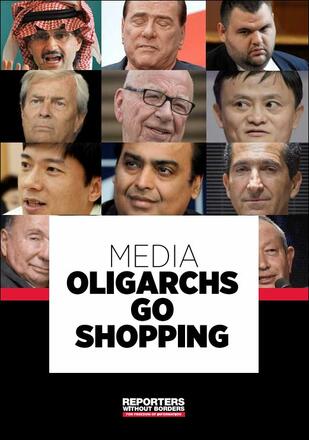 Oligarchs go shopping, the newest RSF report, describes the takeover of media groups and entire media landscapes by oligarchs, whose interest in major newspapers, TV channels and radio stations around the globe depends on seeing them as a way to promote their personal interests and extend the scope of their influence on public spheres.
In countries such as Russia, Turkey, India and Hungary and even in what are supposed to be the most open democracies, billionaires use their fortunes to shop for media outlets, often with governments' blessing. The resulting conflicts of interest deprive journalists of their independence, leading to self-censorship, and at the same time deprive everyone else of their right to honestly reported news and information.
The report highlights the emergence of a new model of media ownership, marked by the increasingly relevant role of media empires. There are in most cases run by oligarchs who have pledged allegiance to the political establishment, and whose impact on news production tends to result in the replacement of journalistic content with entertainment
Examples of these dynamics are offered in the report, focusing on some specific cases.
In Turkey for instance, the government's usual repressive methods are exacerbated by censorship in which the oligarchs are accomplices. Among the oligarchs controlling media in Turkey, Ferit F. Şahenk, the head of the very powerful Dogus Group (which controls NTV), Turgay Ciner, an energy sector billionaire who owns Haberturk TV and the Haberturk newspaper, and Yildirim Demirören, the CEO of an oil, gas, tourism and public works conglomerate who bought the prestigious big-circulation daily Milliyet in 2012.
In depth analysis of the Russian context is also provided. Most notably, while in the '90s "privately-owned" media were synonymous with journalistic freedom and quality reporting (in stark contrast with state-controlled media), since the beginning of the Putin era in 1999, the Kremlin got "reliable" pro-government people to recover control of dissident media.
Overall, the report offers an in-depth perspective on the alliances between billionaire businessmen and governments, disentangling the complex webs of media share ownership, shedding light on family and political ties, drawing attention to sudden changes in editorial policy and exposing unfair use of media power newspapers.
Tags:
Media ownership
Media pluralism
Turkey
Russia
Italy
France
Switzerland
Media capture
The content of this article can be used according to the terms of Creative Commons: Attribution-NonCommercial 4.0 International (CC BY-NC 4.0) . To do so use the the wording "this article was originally published on the Resource Centre on Media Freedom in Europe" including a direct active link to the original article page.