Publication Date: May 2017
Research and Editorial Team: Alice Marvick and Rebecca Lewis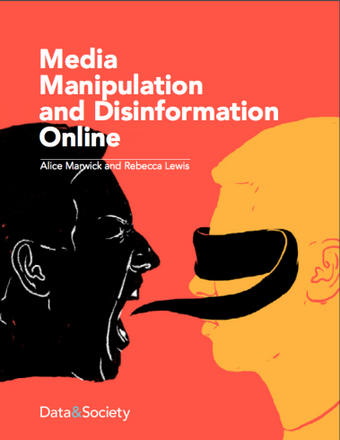 Moving from the experience of internet far-right activists and groups that in the United States supported Trump during the 2016 election campaign, the report "Media manipulation and disinformation online" aims at understanding the context for media manipulation and disinformation in the online sphere and explores how subcultural groups that organise online may be successful in manipulating the media infrastructure and influencing the mainstream media agenda with extremist and populist messages.
This study also maps the galaxy of actors involved in the various networks of internet subcultures connected with the so called "alt-right" movement, which includes an amalgam of conspiracy theorists, techno-libertarians, white nationalists, trolls, anti-feminists and anti-immigration activists. Their motivations as well as the spaces where they operate online and the techniques they use are also explored. The report shows thus how such activists take advantage of the opportunities offered by the Internet - in terms of collaboration, communication and peer production - and exploit the weaknesses of the news media ecosystem that have shown to be vulnerable to extremist and sensationalist content.
Moreover, the report explains how social and participatory media and platforms empower and propagate fringe views. Such platforms include ideologically-driven blogs and websites and their comment sections, forum and message boards as well as mainstream social media sites, such as Twitter, Facebook and You Tube.
The report found out that motivations behind such groups are various, ranging from "pure propaganda aims" to economic interests for those that strategically spread fake news to make money; from those who create disinformation and chaos for fun to politicians with vested interests in spreading certain frames; to groups who use the media to influence public opinion. To put it into categories, motivations are inspired by ideology, money and/or status and attention.
According to the authors, mainstream media are susceptible to manipulation due to a number of reasons, including: low trust in the media; a proclivity for sensationalism ("attention economy"); lack of resources for in-depth reporting and fact-checking; and corporate consolidation leading to a reduction of local media publications and more hegemonic media brands.
The report concludes that such vulnerabilities, along with mainstream media's need for constant novelty and emphasis on profits over civic responsibility, made them vulnerable to manipulation and disinformation, since much of such racist, sexist, homophobic and far-right speech and content would remain in the domain of subcultural sphere if not for their amplification given by mainstream media.
Tags:
Fake news and disinformation
Worldwide
Hate speech
Political pressure
Propaganda
Social media
Trust in media
The content of this article can be used according to the terms of Creative Commons: Attribution-NonCommercial 4.0 International (CC BY-NC 4.0) . To do so use the the wording "this article was originally published on the Resource Centre on Media Freedom in Europe" including a direct active link to the original article page.