Publication Date: November 2016
Research and Editorial Team: Marijana Camović, Danka Vraneš-Redžić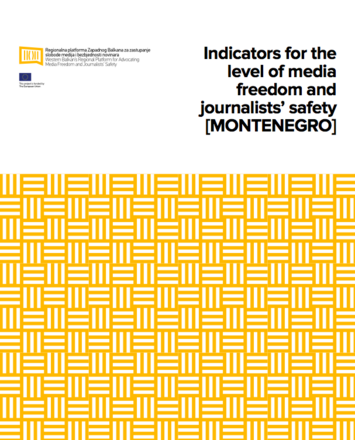 This report presents the findings of the research conducted within the regional project Western Balkan's Regional Platform for advocating media freedom and journalists' safety, which was implemented by national journalists' associations not only in Montenegro, but also in Bosnia and Herzegovina, Kosovo, Macedonia and Serbia.
The main objective of the research is to provide baseline assessments which will be further used in a regional mechanism for monitoring media freedoms at local, national and regional level. Being part of a broader project, this research has been conducted on the basis of a common methodology. According to this approach, the level of media freedom can be measured using three indicators: 1) legal protection of media and journalists' freedoms; 2) Journalists' position in the newsrooms, professional ethics and level of censorship; 3) Journalists' safety.
Although partly obsolete, when applied media laws in Montenegro still provide good guarantees for the press and the media. The Agency for Electronic Media is formally separated from the influence of political or public figures, but it is not publicly perceived as an independent entity. Three quarters of journalists in Montenegro have permanent work contracts and they mostly work for the Public Broadcasting Service, but the average salary is below the national average. From 2013 until July 2016, the Police Directorate of Montenegro registered 41 cases of threats endangering media employees, including attacks on journalists. The report includes a list of recommendations for Montenegrin authorities.
The comparative analysis of the five countries involved in the Balkan's Regional Platform is available at this link.
Tags:
Access to information
Censorship
Freedom of expression
Legal protection
Media freedom
Media Law
Media ownership
Safety of journalists
Montenegro
The content of this article can be used according to the terms of Creative Commons: Attribution-NonCommercial 4.0 International (CC BY-NC 4.0) . To do so use the the wording "this article was originally published on the Resource Centre on Media Freedom in Europe" including a direct active link to the original article page.