Publication Date: April 2018
Research and Editorial Team: Laura Ștefan, Sorin Ioniță, and Septimius Pârvu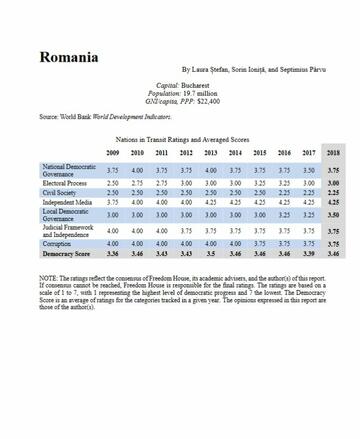 Related contents
Nations in Transit 2018 – Slovenia Country report
The report considers three main dimensions affecting media independence in the country, namely the legal, political, and economic environment.
During 2017, the Romanian media remained extremely polarised and vulnerable, suffering from a precarious economy both at national and local level. While the printed press experienced a rapid decline, Antena 3 and Romania TV, criticised for producing fake news and manipulating information, enjoyed growing ratings among news channels.
Indeed, disinformation and fake news circulating on social media emerge as a serious issue. For instance, at the beginning of 2017, when hundreds of thousands of people protested about the swift and non-transparent changes to justice laws by the government coalition, Romania TV news claimed rallies were financed by George Soros. A similar line was taken by Antena 3. The owners of both channels had issues with justice. Sebastian Ghiță - who owned Romania TV - is now a fugitive in Serbia, whereas media tycoon Dan Voiculescu - whose family owns Antena 3 - was sentenced to jail for corruption in 2014.
2017 was also a year in which several legislative changes occured. In the first place, the Audiovisual Code was modified in February and contained new, enhanced regulations on defamation and the right to reply, although its implementation remained a leading obstacle. Secondly, the new Law 1/2017 was approved. The law removes the general tax for financing public TV and radio, introducing subsidies from the state budget instead. This regulation has been severely criticised since it may lead to even less transparent financing of public radio and TV, while fostering further politicisation of the two institutions.
Politicisation is also a serious issue at the national press agency, Agerpres. A draft law was presented and concerns a vote by Parliament that could dismiss the head of Agerpres, every year. The draft raised heavy criticism as it may lead to increasing political clientelism due to the constant change of management.
Finally, various forms of pressure on the media were reported in 2017. Censorship and the politicisation of the administration in the private media became more and more prominent, leading several journalists to resign in protest.
Tags:
Romania
Media pluralism
Media freedom
Media ownership
The content of this article can be used according to the terms of Creative Commons: Attribution-NonCommercial 4.0 International (CC BY-NC 4.0) . To do so use the the wording "this article was originally published on the Resource Centre on Media Freedom in Europe" including a direct active link to the original article page.