Publication Date: December 2014
Research and Editorial Team: Scott Griffen, Barbara Trionfi, Steven M. Ellis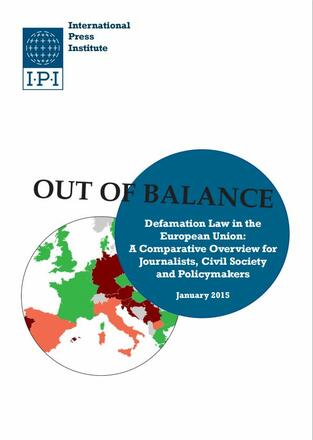 The findings are presented in the form of a comparative analysis of defamation law in the 28 European Union (EU) member states and 5 of the 6 official EU candidate countries. The report broadly evaluates the extent to which EU defamation laws meet international standards on freedom of expression and highlights key issues for future advocacy work. The findings are based on IPI's analysis of data on defamation laws in each of these countries, in turn based on data collected by IPI and by researchers at the School of Public Policy's Center for Media and Communications Studies (CMCS) at the Central European University in Budapest and their partners at the SHARE Foundation in Belgrade, and in consultation with a team of national legal experts. This report is part of IPI's broader advocacy, training and capacity-building work on defamation in the EU, supported with co-funding from the European Commission under its European Centre for Press and Media Freedom pilot program and the Open Society Foundation (OSF). The goal of IPI's work is to raise awareness among EU policymakers and the general public on defamation laws and their effect on press freedom, as well as to inform journalists about their rights under international principles and thereby empower them to continue delivering news in the public interest. In 2014, IPI held a series of workshops for journalists and lawyers on defamation and international standards in selected EU and candidate countries.
This report is accompanied by two related IPI documents. The first of these presents the results of an IPI perceptions study that collected the personal views and experiences of EU journalists on defamation laws and their application. The results bear witness to the dangerous chilling effect that defamation laws can have on the free flow of information and offer a mandate for continued training of journalists on such laws. The second document summarizes relevant international standards on freedom of expression and defamation, as originally developed in 2000 by the London-based civil society organization ARTICLE 19. It also provides a briefing on the viewpoint on those standards expressed by leading international legal and intergovernmental bodies, with particular focus placed on the European Court of Human Rights (ECtHR). Both documents are available online at IPI´s project website.
Tags:
Defamation and Libel
EU Member States
The content of this article can be used according to the terms of Creative Commons: Attribution-NonCommercial 4.0 International (CC BY-NC 4.0) . To do so use the the wording "this article was originally published on the Resource Centre on Media Freedom in Europe" including a direct active link to the original article page.