Publication Date: May 2016
Research and Editorial Team: Erekle Urushadze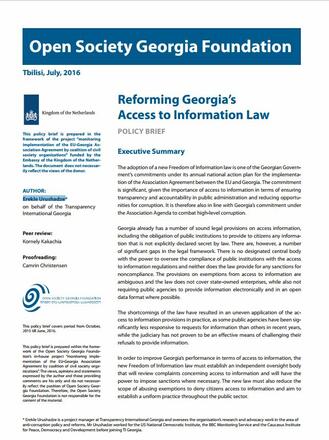 Prepared within the framework of the Open Society Georgia Foundation project "Monitoring implementation of the EU-Georgia Association Agreement by coalition of civil society organizations", the policy brief "Reforming Georgia's Access to Information Law" covers the period from October 2015 till June 2016. The first part of the report reviews international principles, standards and best practices in the field of access to public information that national legislations should include to regulate access to information effectively.
Against this framework, the policy brief analyses the provisions regulating access to public information in Georgia which must be reformed in accordance with the Georgian Government's action plan for the implementation of the EU Association Agreement. The report finds out that, despite several sound legal provisions already in place, the legal framework presents a number of significant gaps, such as the lack of a designed central body with the power to oversee the compliance of public institutions with the law, and the absence of a sanctions system for noncompliance. The report also notes that the provisions on exceptions are ambiguous and the law does not cover state-owned enterprises nor does it require public bodies to provide information electronically and in open format where possible.
The third part of the report assesses the impact of legal shortcomings in the application of the law in practice, which is problematic under many aspects, including the fact that the judiciary is not an effective channel for appealing refused decisions, the lack of sanctions for noncompliance and the abuse of the law protecting personal data, which often leads to non-disclosure of information whenever personal data is involved.
Lastly, the report highlights the fact that important changes in the legal framework are needed to address the significant problems that remain in the field, starting from the establishment of a dedicated body in charge of monitoring the application of the law in practice and ensuring compliance through sanctions when necessary. Thus, the policy brief sets forth a set of recommendations to be considered in the adoption of the new legislation.
Tags:
Georgia
Access to information
The content of this article can be used according to the terms of Creative Commons: Attribution-NonCommercial 4.0 International (CC BY-NC 4.0) . To do so use the the wording "this article was originally published on the Resource Centre on Media Freedom in Europe" including a direct active link to the original article page.