Publication Date: June 2019
Research and Editorial Team: Nic Newman, Richard Fletcher, Antonis Kalogeropoulos, Rasmus Kleis Nielsen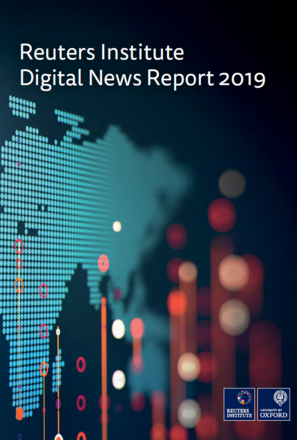 Through an online survey of over 75,000 people in 38 countries (including 24 in Europe), the 2019 Digital News Report by Reuters Institute for the Study of Journalism highlights recent trends in the news industry and analyses the evolution of people's habits in the use of digital media.
The power of giant tech companies and their advertising operations have undermined news business models, while online political polarisation and misinformation have contributed to undermining trust in the media.
The first part of the report focuses on the main findings of the research.
Compared to the 2018 Report,
there has been only a small increase in the number of people paying for any kind of online news, and even in countries with higher levels of payment, the vast majority only has one online subscription. In some countries, the majority prefers to spend on entertainment subscriptions, such as Netflix or Spotify, rather than news;
the trend of people spending less time on Facebook and more on WhatsApp and Instagram continues to grow. A rise in the use of messaging apps for news is still ongoing, especially in Brazil, Malaysia, and South Africa, where WhatsApp with its private groups is the main network for discussing and sharing news. This causes concerns also because it potentially encourages the spread of misinformation;
in general, the level of trust in news is falling and people's habits are shifting towards more "reputable" and reliable sources of news;
people with populist attitudes are more likely to rely on television and Facebook as sources of news, and less likely to trust the news media overall;
more people are avoiding the news saying that it has a negative effect on their mood and they feel powerless to change events;
the importance of smartphones for news is growing, as well as mobile news aggregators and podcasts (especially among the young). The use of voice-activated smart speakers continues to grow rapidly, but their usage for news remains low.
Section 2 contains six in-depth analyses on specific issues (such as the rise of populism and the consequences for news, younger generations, paying for news), while Section 3 provides country analyses from Europe, Americas, Asia Pacific, and Africa.
Although this year the analysis includes also South Africa and aims at global coverage, the research remains focused on countries with high Internet penetration and which either are broadly democratic or generally compare themselves to countries with a democratic tradition. With the aim of not creating confusion on comparative analysis, the country analysis of India has a separate report.
Tags:
Online news Online media
Media literacy
Fake news and disinformation
Trust in media
Social media
Italy
Spain
France
Portugal
Germany
Netherlands
Belgium
Ireland
United Kingdom
Poland
Slovakia
Slovenia
Hungary
Turkey
Czech Republic
Croatia
Bulgaria
Romania
Austria
Greece
Denmark
Sweden
Finland
Norway
Switzerland
Business model
The content of this article can be used according to the terms of Creative Commons: Attribution-NonCommercial 4.0 International (CC BY-NC 4.0) . To do so use the the wording "this article was originally published on the Resource Centre on Media Freedom in Europe" including a direct active link to the original article page.