Publication Date: June 2022
Research and Editorial Team: Nic Newman, Richard Fletcher, Craig T. Robertson, Kirsten Eddy, Rasmus Kleis Nielsen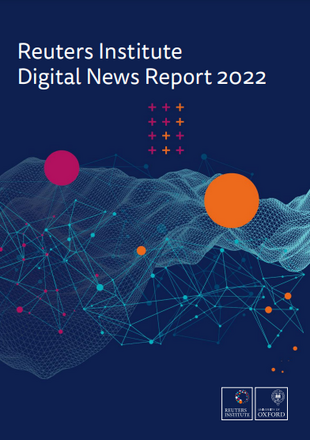 While last year's report showed some positive signs with higher levels of news consumption and trust, in 2022 the picture is less optimistic. What emerges is a news fatigue, with an increasing number of people avoiding news. Interest is falling in many countries and people are becoming more and more disconnected and disengaged.
Finland is the country with the highest level of trust in the news (69%), but the percentage fell in almost half of the countries analysed. Trust fell for instance in Romania (-9%), Croatia (-7%), Poland (-6%), Greece (-5%) and Italy (-5%). Among the reasons for low trust, there is a perception of political bias by the media, together with the issue of interference by politicians and businesspeople (especially in Central and Eastern Europe). In Southern and Eastern Europe, public service broadcasters have a low reputation due to their partisan editorial line, contrary to the general trend that sees public service at the top of the trust list.
Concerns around misinformation appear stable. When looking at the levels of perceived misinformation, dubious health claims around Covid-19 are still very widespread together with issues related to environment and climate change.
The Digital News Report 2022 also focuses on the habits of those under 30, who have grown up with social media. Although Facebook is still the most popular social network for news, the youngest generation has switched to more visual networks such as TikTok. Concerns related to the nature of the platform (too much entertainment) are common.
Younger and less educated people are largely disconnected from the news. They avoid selected news for reasons that range from the difficulty to follow to the fact that the news brings down their mood. Therefore, the survey leads to the conclusion that subjects like political crises, international conflicts, global pandemics, and climate catastrophes are turning some people away from news. As a reaction, news organisations are recurring to approaches such as solutions journalism that aim to give people a sense of hope.
In general, a large proportion of subscriptions go to just a few big national brands. There is an increase in subscriptions, membership and donations in wealthier countries such as Norway and Sweden. Interestingly, over half (53%) pay for a local or regional title in Norway, and similar results can be found in all the Nordic countries as well as in Germany. Looking at the digital news subscriptions, the proportion of younger people paying for online news is really low. Younger people are also more reluctant to give up their data for news sites. This will represent a challenge for media companies due to the phasing out of third-party cookies.
In conclusion, the shift towards a more digital media environment has been accelerating, with implications for business models and formats. However, online and social consumption still do not bridge the gap with the decline in consumption of traditional media (TV, print). In the future, publishers will need to focus even more on the needs of specific audiences, creating value and standing out in an unprecedented amount of content.
Tags:
Digitalisation
Online news Online media
Worldwide
The content of this article can be used according to the terms of Creative Commons: Attribution-NonCommercial 4.0 International (CC BY-NC 4.0) . To do so use the the wording "this article was originally published on the Resource Centre on Media Freedom in Europe" including a direct active link to the original article page.