Publication Date: May 2018
Research and Editorial Team: Raluca Radu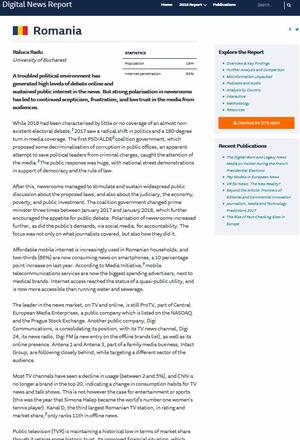 Related contents
Reuters Institute Digital News Report 2018
As a consequence of the conflictual political situation, scepticism and low trust in media by the audience have become prevailing. The radical shift that occurred in politics in 2017 also saw a fundamental turn in media coverage.
The first PSD-ALDE coalition government proposed a partial decriminalisation of corruption in public offices, apparently attempting to save political leaders from criminal charges. The government's move caused a wide public response, with national street demonstrations in support of democracy and the rule of law.
Newsrooms stimulated public debate on the legal amendments as well as other issues of political interest. The discussion was further encouraged by the change of two prime ministers in the coalition government within a year. The public attention toward political debate also inflamed polarisation of newsrooms, along with people's request for accountability, expressed via social media.
According to the Media Initiative, quoted in the report, 2/3 of Romanian households use mobile Internet for news, with a 10% increase in 2017. Mobile services are also the biggest spending advertisers. The report stresses that Internet is highly affordable and its access is considered a quasi-public utility, now even more accessible than running water and sewerage.
As for TV channels, ProTV is still the leader on TV and online markets, along with Digi Communications. A decline in usage has met most TV channels, mostly in the public television (TVR), which has one of the lowest weekly records for European public broadcasters.
Multiple sources of news are often explored by Romanian people, as online news brands - such as Yahoo! News and local aggregator Ziare.com - performed strongly.
Investigative and narrative journalist outlets such as Recorder.ro and Teleleu - covering corruption money, poverty, administrative incompetence - have also profited from the rise of online and social media distribution. Social consumption of news is differentiated: although Youtube and Facebook still represent the main sources (respectively at 75% and 83%), the use of Whatsapp and Messenger to find and share news is growing.
Tags:
Romania
Online news Online media
Investigative journalism
Political pressure
Business model
The content of this article can be used according to the terms of Creative Commons: Attribution-NonCommercial 4.0 International (CC BY-NC 4.0) . To do so use the the wording "this article was originally published on the Resource Centre on Media Freedom in Europe" including a direct active link to the original article page.