Publication Date: January 2021
Research and Editorial Team: Dr. Anya Schiffrin, Hannah Clifford and Kylie Tumiatti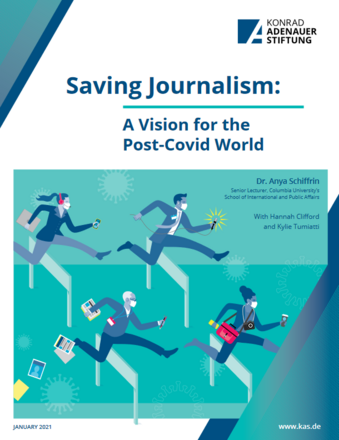 Dozens of plans to help save journalism have emerged since the Covid-19 pandemic decimated media outlets around the world. This report summarizes some of the trends and evaluates where they currently stand.
Most promising are Australia's efforts to get Google and Facebook to pay for news and efforts in the U.S. to get laws and investment that would support local news.
The Covid-19 pandemic has confirmed yet again the importance of clear, reliable, and accurate information for societies. Throughout the pandemic audiences have turned to trusted sources for scientific information about the disease and its spread.
Many of the new initiatives involve increased support from foundations and discussion about how media business models can adapt to the current crisis.
Philanthropic support has enabled hundreds, if not thousands, of media outlets around the world to survive but it's increasingly clear that more systemic support is needed.
Small grants are another tool implemented, and in some cases there are public subsidy efforts.
The cases described in the report range from Australia to the USA to Canada and Europe.
"What should be clear is that, as with many of the economic and social issues the global pandemic has laid bare, the funding problems of independent journalism outlets, the growth of news deserts, and the outsize impact and power of the tech companies were transforming local news before Covid-19 became an issue".
Tags:
Local media
COVID-19
The content of this article can be used according to the terms of Creative Commons: Attribution-NonCommercial 4.0 International (CC BY-NC 4.0) . To do so use the the wording "this article was originally published on the Resource Centre on Media Freedom in Europe" including a direct active link to the original article page.