Publication Date: November 2015
Research and Editorial Team: Ilda Londo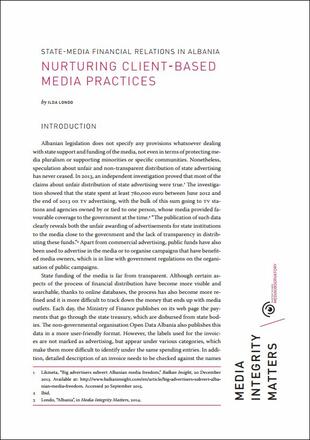 The report examines the mechanisms through which unfair and opaque distribution of state advertising in Albania subvert media freedom and independence in the country by favouring media group with a favourable coverage.
The study pays special attention to the distribution of state advertising, the relations between media business and the state, and the controversial role of advertising agencies functioning as an alternative channels through which public funds are channelled to media.
Transparency of the media market in Albania is very scarse, the report argues, first of all due to the non-existence of a central body tasked with the monitoring of the distribution of state advertising. This goes hand in hand with the lack of clear, equitable rules regarding state advertising, and with the low transparency about figures relating to media market.
The involvement of new actors such as advertising agencies makes it even more difficult to track state funding for the media. To further complicate this picture, the media obtain funds not only through their media companies, but also via sister companies with the same owners, such as foundations, universities, institutes, etc.
Of particular concern is the opaque distribution of advertisement to local media, whose impact is increased by the poor advertising market for local outlets. All of these aspects clearly highlight the interdependence of media and politics, which has led to a highly client-based media practice in the country.
Last but not least, the report points out the existence of a complex relation between the state and the media in terms of journalists' labour rights and (non)payment of state taxes. Enforcement of labour rights in the media has been exerted in a very loose manner in recent years, worsening the working condition and exposing journalists to serious economic vulnerability.
This report released by SEE Media Observatory is part of a series of media integrity reports covering all seven EU enlargement countries.
Tags:
Albania
Media ownership
State advertising
Local media
The content of this article can be used according to the terms of Creative Commons: Attribution-NonCommercial 4.0 International (CC BY-NC 4.0) . To do so use the the wording "this article was originally published on the Resource Centre on Media Freedom in Europe" including a direct active link to the original article page.