Publication Date: February 2017
Research and Editorial Team: Alex Krasodomski - Jones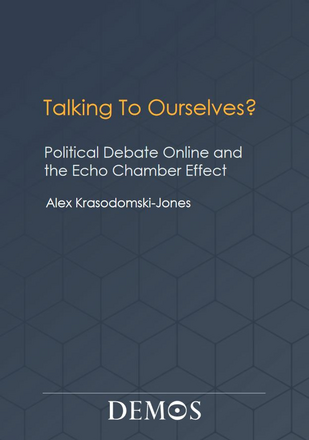 The study starts by considering that the web is almost certainly the primary source of information for people living in the United Kingdom in 2017. However, the breadth of information we are shown online is likely to be technologically narrowed – filtered by algorithms and tailored by our increasing power to shape the news we see. This also appears to lead to the so-called 'Echo Chamber' phenomenon, an expression that refers to social platforms' structure that over-provides users "with information that they agree with, or even to supress the content they do not".
In order to explore this phenomenon the author analyses Twitter data from 2,000 users who openly expressed their support for one of four political parties in the UK, finding similar patterns between supporters of different political parties. The paper suggests that there is a strong connection between a user's ideology and the users and news sources they interact with, and that offline beliefs play a key role in the way users behave online, a hypothesis that is often assumed but rarely measured. The report concludes that an echo chamber effect does exist on social media, and that its effect may become more pronounced the further a user sits from the mainstream.
Tags:
Fake news and disinformation
Social media
Propaganda
United Kingdom
The content of this article can be used according to the terms of Creative Commons: Attribution-NonCommercial 4.0 International (CC BY-NC 4.0) . To do so use the the wording "this article was originally published on the Resource Centre on Media Freedom in Europe" including a direct active link to the original article page.