Publication Date: November 2018
Research and Editorial Team: Valeria Costa-Kostritsky, Sean Gallagher, Paula Kennedy, Adam Aiken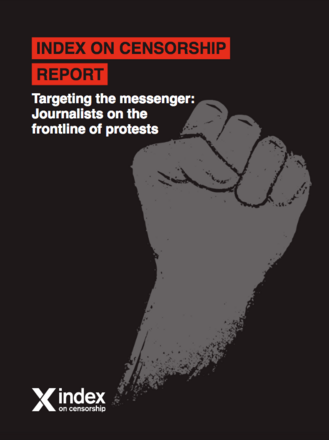 Index on Censorship's Mapping Media Freedom (MMF) report looks at 203 verified cases from 35 countries members of or affiliated with the European Union. There were 46 incidents in France, 33 in Spain, 32 in Germany, and 15 in Romania. France, Germany, and Romania are identified as the worst offenders by the key experts interviewed.
MMF's correspondents found that journalists usually under-report incidents they consider to be too minor, commonplace, or part of the job, or where they fear reprisals. Thanks to the monitoring tool developed by Index on Censorship, a negative trend was detected between 2016 and 2018. The increased number of attacks on journalists covering protests may have been favoured by:
Increased defamation and discrediting of journalists coming from politicians
Lack of trust from the public
Images quickly go viral, which means police and protesters can react badly when they are photographed and filmed
Restrained civil freedoms due to anti-terror legislation
Heavy-handed tactics and heavier weapons used by the police, with little accountability in some countries
In addition, author Costa-Kostritsky recognises the risk of aspiring journalists "cutting their teeth while covering social movements", without "benefiting from the protection that more established journalists enjoy" which can result in blurred lines between journalism and activism.
Tags:
France
Poland
Romania
Germany
Spain
Attacks_against_journalists
Safety_of_journalists