Publication Date: October 2020
Research and Editorial Team: Lewandowsky, S., Smillie, L., Garcia, D., Hertwig, R., Weatherall, J., Egidy, S., Robertson, R.E., O'connor, C., Kozyreva, A., Lorenz-Spreen, P., Blaschke, Y. and Leiser, M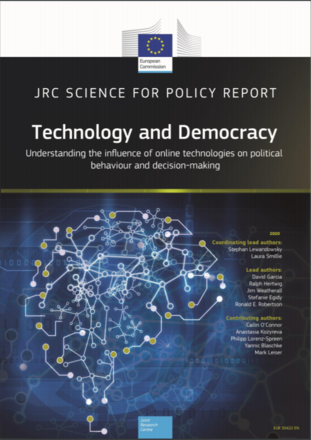 Related contents
Disinformation
The report identifies challenges that emerge when users interact politically on online platforms that are not subject to much public oversight or democratic governance.
As the Commission prepares a new European Democracy Action Plan, Digital Services Act and EU Citizenship Report 2020, this research is designed to help citizens, civil society and policymakers make sense of the impact the online world is having on our political decisions, and identify actions to safeguard a participatory, democratic European future.
The 4 "pressure points" identified and analysed are:
the "attention economy": our attention and engagement are sold as products to advertisers. For example, Facebook's algorithm, analysing only 300 likes, "can predict a user's personality with greater accuracy than their own spouse". A special concern deserves "microtargeting": highly personalised advertisements being directed at users based on their own personalities.
"choice architectures". Social media platforms use several behavioural techniques to encourage people to constantly engage and share, with settings and options that make it much more complicated to leave a platform than to sign up to one.
"algorithmic content curation". The algorithms that sort through and select the information we see online are so complex that this can raise problems for transparency and accountability; these algorithms prioritise content that has, or is expected to have, a high level of engagement and can push to polarisation;
"misinformation and disinformation". The predisposition to negative news, and the action of algorithms can amplify the reach of misleading information.
The report provides insights from behavioural science for policymakers that can be applied in several areas, from tackling misinformation and disinformation, to safeguarding electoral processes and facilitating public discussion, and employs strategic foresight to set out possible future scenarios for the European information space in 2035, to help policymakers envisage how choices made now could shape, and be shaped by, the future of our societies.
Tags:
Digitalisation
Digital safety
The content of this article can be used according to the terms of Creative Commons: Attribution-NonCommercial 4.0 International (CC BY-NC 4.0) . To do so use the the wording "this article was originally published on the Resource Centre on Media Freedom in Europe" including a direct active link to the original article page.