Publication Date: August 2019
Research and Editorial Team: Semir Dzebo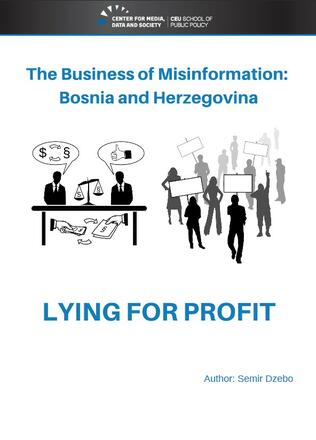 The main motivation of websites spreading misinformation in Bosnia and Herzegovina is profit generated via GoogleAdSense.
Another finding of this report is that established media outlets engage in misinformation practices either to compete for readers'` attention or on behalf of their political patrons.
Misinformation in Bosnia and Herzegovina is analysed through a classification of media outlets in four categories:
1. for-profit misinformation websites without real journalism, able to generate their own content by making up stories and reports or by attributing false quotes to individuals (usually politicians); they usually have a relatively short lifespan, particularly in the case of lesser known portals whose only purpose is financial gain for their owners;
2. real journalism websites with misinformation content, a combination of a clickbait-focused strategy and republishing misinformation content found on other websites. Occasionally, they publish their own original misinformation content by manipulating the facts or adding an untrue element to an otherwise true story;

3. real journalism websites with misinformation content and political propaganda, that also have printed editions; their political content is clearly aimed at portraying their political patrons in a positive light and their opponents negatively;
4. misinformation websites with consistent political propaganda, with no information on who their journalists and editors are; their content (both misinformation content and general content) is primarily political and aimed at criticising those who have opposing views.
Tags:
Bosnia Herzegovina
Journalism education
Media freedom
Media pluralism
Media ownership
Fake news and disinformation
The content of this article can be used according to the terms of Creative Commons: Attribution-NonCommercial 4.0 International (CC BY-NC 4.0) . To do so use the the wording "this article was originally published on the Resource Centre on Media Freedom in Europe" including a direct active link to the original article page.