Publication Date: February 2017
Research and Editorial Team: Emily Bell and Taylor Owen with Pete Brown, Codi Hauka, and Nushin Rashidian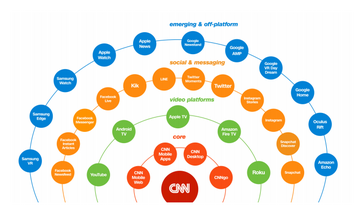 The advent of social media platforms and technology companies led to a rapid takeover of traditional publishers' roles by companies including Facebook, Snapchat, Google, and Twitter, which have evolved beyond their role as distribution channels and now control what audiences see and who gets paid for their attention, and even what format and type of journalism flourishes. On the other hand, news companies have given up more of their traditional functions and publishing is no longer the core activity of certain journalism organisations.
This report, part of an ongoing study by the Tow Center for Digital Journalism at Columbia Journalism School, charts the convergence between journalism and platform companies. In the span of 20 years, journalism has experienced three significant changes in business and distribution models: the switch from analog to digital, the rise of the social web, and now the dominance of mobile. This last phase has seen large technology companies dominate the markets for attention and advertising and has forced news organisations to rethink their processes and structures.
Through content analysis and interviews, the report highlights how technology platforms have become publishers in a short space of time, leaving news organisations confused about their own future; how competition among platforms to release products for publishers is helping newsrooms reach larger audiences than ever before, but with significant concerns about loss of branding, lack of audience data, and migration of advertising revenue; how social platforms shape journalism itself by offering incentives to news organisations for particular types of content, such as live video, or by dictating publisher activity through design standards; how the structure and the economics of social platforms incentivise the spread of low-quality content over high-quality material. Journalism with high civic value—journalism that investigates power, or reaches underserved and local communities—is discriminated against by a system that favours scale and shareability.
Tags:
Online news Online media
Social media
Ethics of journalism
Media freedom
Media pluralism
Worldwide
The content of this article can be used according to the terms of Creative Commons: Attribution-NonCommercial 4.0 International (CC BY-NC 4.0) . To do so use the the wording "this article was originally published on the Resource Centre on Media Freedom in Europe" including a direct active link to the original article page.