Publication Date: May 2015
Research and Editorial Team: Ivana Smoleňová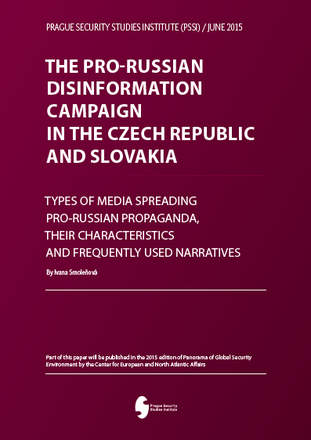 This paper provides an overview of the pro-Russian disinformation activities in the Czech Republic and Slovakia. The analysis identifies frequently used narratives and brings attention to the similarity of arguments and messages used by pro-Russian media with no formal links to Russia and media openly founded and financed by the Russian Federation. Moreover, the paper discusses the characteristics and strengths of this pro-Russian disinformation campaign in the Czech Republic and Slovakia. It also presents a number of recommendations, based on research by experts on Russia's information warfare and propaganda, adjusted to the local circumstances.
In the Czech Republic and Slovakia, the pro-Russian disinformation campaign originates from multiple sources: numerous pro-Russian websites, informal groups and communities on social media, several printed periodicals, radio broadcasts, and non-governmental organizations. An extensive social media activity and the organization of public events and gatherings amplify their pro-Kremlin messages.
The paper describes the main pro-Russian media in the Czech Republic and Slovakia, comparing four different media outlets: Zem & Vek, the portal Aeronet, the magazine Vědomí and the Czech branch of international media outlet Sputnik News. The latter is an online news and radio broadcast service established by Rossiya Segodnya, the news agency controlled by the Russian government. Sputnik is included in this report in order to compare the official rhetoric with the informal one. Eight categories, selected because of the high frequency with which they appear in pro-Russian campaign, were monitored in order to highlight the narratives used to boost Russian targets.
The text focuses on the similarities, rather than the differences, of the pro-Russian disinformation campaign in the Czech Republic and Slovakia; however, it also acknowledges that public perceptions of Russia vary between the two countries and, therefore, the effectiveness of the campaign may also be different.
The paper concludes with some recommendations and suggest some tools to deconstruct the Russian rhetoric. According to the paper, pro-Russian media and platforms are creating a fictitious world where Russia emerges as both the savior and moral authority, the guarantor of political stability and peace. The author hopes for a more conscious approach to pro-Russian media, underlining the fundamental role played by information in the modern warfare strategies.
The report is curated and published by the Prague Security Studies Institute .
Tags:
Czech Republic
Slovakia
Propaganda
Russia
The content of this article can be used according to the terms of Creative Commons: Attribution-NonCommercial 4.0 International (CC BY-NC 4.0) . To do so use the the wording "this article was originally published on the Resource Centre on Media Freedom in Europe" including a direct active link to the original article page.