Publication Date: March 2020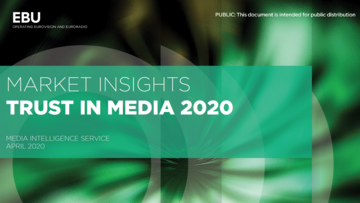 The report by the European Broadcasting Union's Media Intelligence Service (MIS) is based on data from the 92nd Standard Eurobarometer.
The Net Trust Index has been developed by the EBU to obtain an idea of the level of trust each country's citizens have in the different types of media.
In 2020, the trust gap between traditional and online media persists: broadcast media enjoy higher trust levels, while the Internet and social networks are least trusted in 85% of the countries.
The higher the level of trust in a country's radio and TV, the higher press freedom tends to be in that country. The strong correlation suggests that, in the European context, citizens' trust in broadcast media is closely connected with a free, independent media landscape.
The more national Public Service Media (PSM) are perceived by citizens to be free from political pressure, the higher the level of trust in national media. Furthermore, in countries with high trust in news, citizens are less likely to perceive misinformation as a problem.
During a crisis (as experienced for the recent COVID-19 pandemic), European citizens tend to trust PSM news the most. Globally, TV news channels are the most-used source of COVID-19 information, while social networks have the biggest trust gap: 47% use it, but only 14% rank it as one of the most trustworthy sources.
The second part of the report analyses the trustworthiness of radio, TV, press, the Internet, and social networks across Europe.
See also the infographic and the dataset.
Tags:
Trust in media
Public broadcasting
Social media
The content of this article can be used according to the terms of Creative Commons: Attribution-NonCommercial 4.0 International (CC BY-NC 4.0) . To do so use the the wording "this article was originally published on the Resource Centre on Media Freedom in Europe" including a direct active link to the original article page.