Publication Date: September 2016
Research and Editorial Team: Erol Önderoglu, Johann Bihr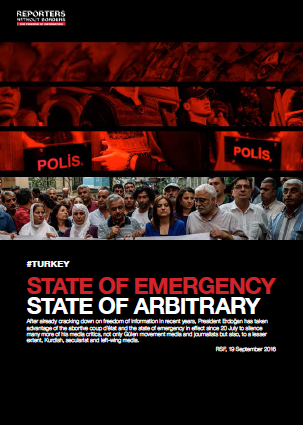 After already cracking down on freedom of information in recent years, President Erdoğan has taken advantage of the abortive coup d'état and the state of emergency in effect since July 20 to silence more of his critics, not only Gülen movement media and journalists but also, to a lesser extent, Kurdish, secularist and left-wing media.
Reporters without Borders report examines Turkey's political situation after the failed putsch, focusing on media freedom and democratic pluralism. The result is an accusation to Erdoğan authoritarianism: "Persecution of critics had already been growing in recent years in Turkey in what was the clearest sign of President Erdoğan's authoritarian tendencies", note the authors, "The state of emergency has been used in order to remove the few remaining rights of expression and any legal safety for journalists".
Dozens of renowned journalists, including leading reporters and editors of the pro-Gülen movement newspapers and magazines, have been placed in preventive detention under the state of emergency. In total, according to the three main Unions, 200 journalists have been jailed since the 15 July coup attempt, of which 101 were still detained on September 14.
RSF report details a complete list of all authoritarian measures carried out by Erdoğan administration in the last few months, including arbitrary imprisonment, crimes of opinion, mistreatment and poor prison conditions.
Consequences on freedom of expression are serious, fostering self-censorship and weakening media pluralism: 45 newspapers, 16 TV channels, 23 radio stations, three news agencies and 15 magazines (plus 29 publishing houses) have been closed on suspicion of "collaborating" with the Gülen movement. Moreover, the authorities confiscated passports to media representatives who are suspected or accused under the Anti-Terrorism Law 3713. The victims of this provision include Can Dündar of Erdem Gül of the newspaper Cumhuriyet, whose passports have been seized or cancelled by the Istanbul prosecutor's office. Also their official press cards, known as a "yellow card," have been also withdrawn.
"It was to rescue democracy that Turkish citizens took to the streets en masse and confronted the tanks at great personal risk on the night of 15 July" - concluded the authors - "but democracy is not limited to electing a government. It is also about respect for fundamental freedoms".
For these reasons RSF asks to Turkey administration the end of "arbitrary practices and disproportionate sanctions against the media".
Tags:
Turkey
Media freedom
Media pluralism
Freedom of expression
The content of this article can be used according to the terms of Creative Commons: Attribution-NonCommercial 4.0 International (CC BY-NC 4.0) . To do so use the the wording "this article was originally published on the Resource Centre on Media Freedom in Europe" including a direct active link to the original article page.