Publication Date: November 2020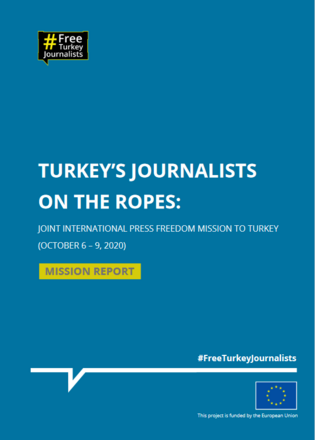 The mission was organised in the wake of the Covid-19 pandemic, the sharp rise in targeting of media by regulators, increased physical attacks on journalists and a new restrictive law on social media with the potential to impose further limitations on the remaining spaces for independent reporting and public commentary.
This report has been prepared by the International Press Institute with the support of the:
▪ Association of European Journalists (AEJ)
▪ Committee to Protect Journalists (CPJ)
▪ European Centre for Press and Media Freedom (ECPMF)
▪ European Federation of Journalists (EFJ)
▪ Osservatorio Balcani Caucaso Transeuropa (OBCT)
▪ PEN International
▪ Reporters without Borders (RSF)
▪ South East Europe Media Organisation (SEEMO)
Meetings were held from October 6 to9 in Istanbul, Ankara and online, with the following groups: Turkey-based civil society organisations representing journalists and human rights groups, leading journalists and media professionals, members of Parliament from three opposition parties (CHP, İYİ Party, HDP), the Constitutional Court (TCC), the Ministry of Justice, Human Rights Department, İlhan Taşçı, CHP member of the broadcast regulator(RTÜK), the Delegation of the European Union and 17 diplomatic missions hosted by the UK embassy.
Turkey's press freedom crisis is worsening amid growing state capture of media, the lack of independence of regulatory institutions, and a new social media law designed to clamp down on the remaining spaces for free comment, a coalition of 11 internationalpress freedom, journalism and human rights groups warned following a four-day mission to the country last week. They also flagged the continued jailing and prosecution of journalists as well as ongoing concerns over the safety of journalists and judicial independence.
Tags:
Turkey
Advocacy
The content of this article can be used according to the terms of Creative Commons: Attribution-NonCommercial 4.0 International (CC BY-NC 4.0) . To do so use the the wording "this article was originally published on the Resource Centre on Media Freedom in Europe" including a direct active link to the original article page.