Publication Date: May 2017
Research and Editorial Team: Martin Moore; Gordon Ramsay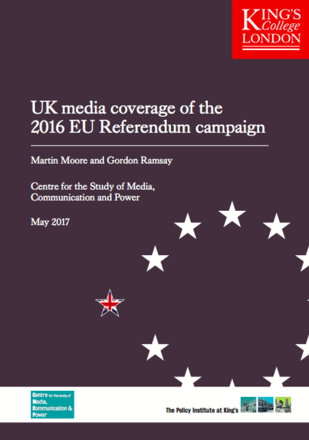 Combining qualitative and quantitative analysis, this study aims to evaluate the way in which British media covered "the most significant decision made by the UK electorate in the 21st century": the so called "Brexit referendum". The study builds on the previous findings published in September 2016 by the Reuters Institute for the Study of Journalism (RISJ) –which based its research on national print newspapers – examining for the first time all the relevant articles widespread online over the official 10-week campaign: from 15th April to 23rd June 2016. The statistical sample includes almost 15.000 articles published by the leading UK national online outlets: national press, digital-only news services, online news services of the leading broadcasters.
Although, of the 20 national sources taken into account, eight endorsed Leave (the Sun, the Daily Mail, the Daily Express, the Sunday Express, the Daily Telegraph, the Sunday Telegraph, The Sunday Times, and the Spectator) and eight supported Remain (The Times, the Guardian, the Observer, the FT, the Independent, the Mail on Sunday, the Mirror, and the New Statesman), the research does not consider this sort of numerical parity, preferring to focus on the people and the issues that defined the debate, on the language that was used and on the themes that characterised the campaign.
Politicians' statements dominated the all campaign: the most notably representatives for Remain were David Cameron (5,758 articles) and George Osborne (2,355 articles); the most quoted voices for Leave were Boris Johnson (3,407 articles), Nigel Farage (2,123 articles) and Michael Gove (2,090 articles). The most covered campaign issue was economy (7,028 articles), followed by immigration (4,383 articles), with health a distant third (1,638 articles); nevertheless, within Brexit debate, the economic issues were increasingly linked to immigration, a more than tripled topic over the course of the campaign, rising faster than any other political issue.
The research describes the whole UK media coverage as "acrimonious" and "divisive". Leave-supporting news outlets framed the campaign in populist terms, presenting the "Establishment" against the interests of the "people" (547 articles mentioned the "Establishment", 636 mentioned "elites"). Driven by populist arguments, the campaign saw both sides engaged in mutual accusations of lying (552 articles), of misleading (464 articles) and of dishonesty (234 articles). Each side said the other was guilty of trying to scare voters, though the label 'Project Fear' was most successfully attached to the approach of the Remain - the Remain claim that Brexit would cost households £4,300 per year by 2030 was discussed in more articles than the Leave campaign's claim that the EU cost the UK £350 million each week (365 articles vs 147 articles).
Tags:
European_Court_of_Human_Rights
Fake_news_and_disinformation
Hate_Speech
Media_pluralism
Net_Neutrality
Online_news_Online_media
Trust_in_media
Verification