Publication Date: April 2012
Research and Editorial Team: UNESCO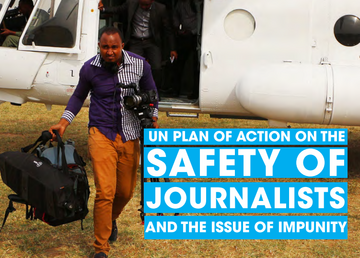 The UN Plan of Action on the Safety of Journalists and the Issue of Impunity is a systematic UN-wide plan to work toward a free and safe environment for journalists and media workers, including social media producers of public interest journalism, with a view to strengthen peace, democracy, and development worldwide. It covers both conflict and non-conflict situations.
The UN Plan provides an overarching framework for cooperation between all relevant stakeholders, including UN bodies, national authorities, media actors, and national, regional, and international organisations. It proposes principles for cooperation and possible practical actions. At country level, the UN Plan encourages the setting up of mechanisms for the prevention and punishment of attacks on journalists, and for their protection in the face of threats.
What follows is a synopsis of the UN Plan.
WHAT IS THE UN PLAN OF ACTION?
The UN Plan is a UN-endorsed framework for multi-stakeholder co-operation to ensure a free and safe environment for journalists and media workers in both conflict and nonconflict situations.
WHY IS THE UN PLAN NEEDED?
Every five days, a journalist is killed in pursuit of a story. The safety of journalists is an important prerequisite for achieving freedom of expression, democracy, and social development. A silenced journalist mutes the voice of the people and curbs their right to know.
HOW CAN THE UN PLAN BE USED TO ADDRESS THREATS AGAINST THOSE WHO DO JOURNALISM?
The UN Plan promotes the safety of journalists through a wide range of actions including standard-setting, policy-making, monitoring, reporting, building capacity, and awarenes-raising on all levels. The UN Plan takes an inclusive view, seeking to protect the spectrum of professional journalists, media workers, and people who use social media to do journalism.
WHICH ACTORS ARE INVOLVED IN THE UN PLAN?
The UN Plan follows a multi-stakeholder approach to address threats against journalists. It aims to develop shared solutions and draws the wider UN system into a coordinated programme to stop the killing of journalists and threats made against them. It does so through cooperation between governments, media, academia, civil society, UN agencies, and international organisations.
WHAT IS THE WAY FORWARD?
The UN Plan recognises the importance of a holistic approach and political will in securing media safety. Increased cooperation in awareness-raising, legal and institutional reform, capacity-building, and cementing the norm that journalism should be protected is crucial in fostering a safe and enabling media environment worldwide. Freedom of expression and freedom of information are essential in achieving the Sustainable Development Goals.
Tags:
Media freedom
Freedom of expression
Safety of journalists
Worldwide
The content of this article can be used according to the terms of Creative Commons: Attribution-NonCommercial 4.0 International (CC BY-NC 4.0) . To do so use the the wording "this article was originally published on the Resource Centre on Media Freedom in Europe" including a direct active link to the original article page.