Publication Date: February 2014
Research and Editorial Team: Alana Barton, Hannah Storm; Elisa Lees Muñoz (ed.)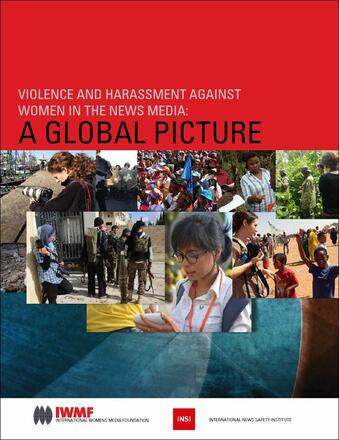 Persistent cultural norms tend to confine women reporters in the realm of "soft" stories and feature writing. Yet, female journalists are at the forefront of reporting from dangerous situations, and are constantly exposed to higher insecurity than their male colleagues.
The study is based on a global survey on harassment and violence against female media workers, launched in August 2013 and completed by almost 1,000 women from around the world. The survey gathered data regarding sexual violence, physical violence, sexual harassment, and information security threats experienced by women journalists.
This study finds that nearly two-thirds of survey respondents had experienced intimidation, threats or abuse in relation to their work (597 out of 921, amounting to 64,8%). In most of the cases, perpetrators are male bosses, supervisors and co-workers.
An alarming trend is found in the fact that incidents of harassment and violence are seldom reported: only one-third of the episodes involving harassment and violence were reported to an employer, police or another authority(35.6%, 288 out of 810 cases).
More than one-fifth (21.6%/118 out of 547) of respondents said they had experienced physical violence in relation to their work.
Sexual violence and sexual harassment constitute widespread forms of abuse against women journalists. Along with this, novel strategies of pressure against women in journalism seems to be emerging, particularly regarding Tapping, Hacking and Digital Security Threats. As stressed also in a 2016 OSCE report, online abuse against female journalist is a rising and alarming phenomenon, particularly as it is employed to organize smear campaigns and attempts to damage your reputation/honour
Tags:
Gender in media
Safety of journalists
Digital safety
Worldwide
The content of this article can be used according to the terms of Creative Commons: Attribution-NonCommercial 4.0 International (CC BY-NC 4.0) . To do so use the the wording "this article was originally published on the Resource Centre on Media Freedom in Europe" including a direct active link to the original article page.