Publication Date: January 2021
Research and Editorial Team: Dilek İçten, Yunus Erduran for MEDAR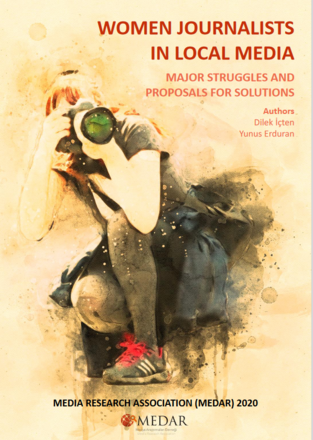 The research supported by ETKİNİZ EU Programme, has taken place between July and September 2020. During the qualitative field research, in-depth interviews have been conducted with 30 women journalists who are actively working at local media organizations in various cities of Turkey. Within the framework of collected data, a monitoring and evaluation report have been provided that includes the vocational situation analysis (current working conditions, journalistic capacity and vocational development opportunities of local women journalists), the need assessment (gender-based discriminations and gender-related vocational obstacles that female journalist are facing during work) and policy proposals for the solution of these detected problems.
With this report, by providing exhaustive data on gender-based vocational obstacles and needs of local women journalists, MEDAR aims at increasing the representation and public recognition of women journalists in Turkey.
Although there is a legal framework to guarantee gender equality in Turkey, women are often subjected to various forms of gender-based discrimination in all domains of social life.
Our aim is to offer extensive data on the representation of women in local media through a situation analysis of the current conditions and a needs assessment, which will help strengthen the vocational visibility of women journalists in these organizations. In this framework, the data gathered in this research will contribute to the efforts to ensure gender equality in the media industry, and offer guidance for future rights-based policies and legislation.
Tags:
Gender in media
Turkey
Local media
The content of this article can be used according to the terms of Creative Commons: Attribution-NonCommercial 4.0 International (CC BY-NC 4.0) . To do so use the the wording "this article was originally published on the Resource Centre on Media Freedom in Europe" including a direct active link to the original article page.