Publication Date: October 2015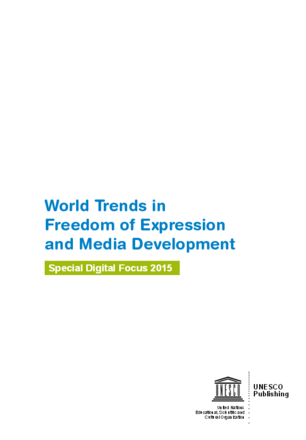 UNESCO World Trends in Freedom of Expression and Media Development – Special Digital Focus 2015 is the follow up of the first systematic trend analysis of the multiple aspects of media freedom, pluralism, independence, and safety released in March 2014. The second edition of the report focuses in depth on selected digital-era trends, namely the issues of online hate speech, protection of journalism sources, and the role of internet intermediaries in fostering freedom of expression, as well as continued focus on the safety of journalists.
The publication is divided into four thematic chapters: 1. Countering Online Hate Speech provides a global overview of the dynamics characterizing hate speech online and a comprehensive analysis of the international, regional and national normative frameworks developed to address hate speech online. Repercussions of these measures on freedom of expression are considered along with social and non-regulatory mechanisms that may prove efficient in countering online hate speech. 2. Protecting Journalism Sources in the Digital Age shows how legal frameworks for the protection of journalistic sources have come under significant strain in the last years, being nowadays at risk of erosion, restriction and compromise. This constitutes a particular threat to the sustainability of investigative journalism. The chapter provides also an 11-point research tool for assessing the effectiveness of legal source protection frameworks in the digital age. 3. Fostering Freedom Online: internet intermediaries – the services that mediate online communication and enable various forms of online expression both foster and restrict freedom of expression across a range of jurisdictions, circumstances, technologies and business models. As businesses units, internet intermediaries have a responsibility to respect human rights, and both should play a role in providing remedy to those whose rights have been violated. 4. Safety of Journalists examines recent trends in the safety of journalists, presenting UNESCO statistics for 2013 and 2014, and tracking other developments up to August 2015. It follows the framework of the previous UNESCO report World Trends.
Tags:
Whistleblowing
Digital rights
Safety of journalists
Hate speech
Worldwide
The content of this article can be used according to the terms of Creative Commons: Attribution-NonCommercial 4.0 International (CC BY-NC 4.0) . To do so use the the wording "this article was originally published on the Resource Centre on Media Freedom in Europe" including a direct active link to the original article page.