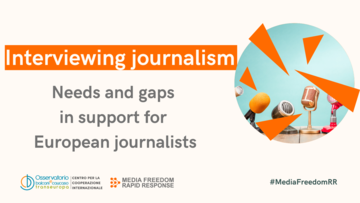 Media independence and pluralism are under growing pressure almost in every country in Europe, put at risk by different kinds of issues such as an increasing precarisation of the profession, political interference, legal and digital threats.
The Covid-19 pandemic has exacerbated most of these problems.
This report is aimed at analysing the needs of journalists and the gaps in their support and protection in the EU and in candidate countries. It is based on an overview of the existing literature onthe topic, an ongoing mapping of stakeholders and support centres produced for the Resource Centre on Media Freedom in Europe and on 24 in-depth, semi-structured interviews.
Here the link to access the research.
Tags:
Safety of journalists
Research