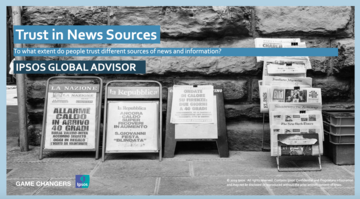 In 2019 the global market research IPSOS conducted an online survey across 27 countries around the world (12 in Europe) to assess trust in the media.
The study finds that respondents trust television and radio slightly more than they trust newspapers and magazines. Notably, levels of trust in newspapers and magazines are lowest in four European countries: Hungary, Serbia, Poland, and Spain. Globally, people tend not to trust online news websites and platforms. Again, levels of trust are lowest in Hungary and Serbia.
When it comes to trusting news sources, proximity matters. People are most trusting of those they know in person, and least of people they mostly know through the Internet. Additionally, personal contacts are rated as the most relevant source of news and information. Overall trust in all sources of information is perceived to have declined over the past five years, except for personal contacts.
The survey identifies one main contributing factor to mistrust: the widespread perceived prevalence of fake news, especially on online news websites. Doubts about media sources' good intentions are a supplementary element.
Tags:
Trust in media
Fake news and disinformation
Online news Online media
Social media
Hungary
Serbia
Publication Date: 31/05/2019