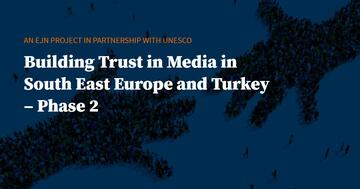 In 2020 eight media outlets in two target countries – Albania and Serbia – performed the ethical audits through piloting of Journalism Trust Initiative (JTI) principles.
The Building Trust in the Media in SEE and Turkey puts UNESCO and EJN efforts in the region into a wider global context of global tendencies to promote the media standards for ethics, good governance and self-regulation. The introduction of specific mechanisms to improve the commitment of media outlets to defined professional and ethical standards and to increase their transparency towards citizens is crucial if media organisations are to be able to prove themselves as sustainable in a world where traditional revenue streams have been compromised.
This phase of the project includes a podcast series , hosting Aidan White, the founder of the Ethical Journalism Network, Alice Taylor (Albania), Olaf Steenfadt (RSF), Jovana Prešić and Branko Čečen (Serbia).
Tags:
Training
Serbia
Albania
Trust in media